Sequel Bits: 'Bond 24,' 'Star Trek Into Darkness,' 'The Expendables 3,' 'The Fast And The Furious 6,' And 'Riddick'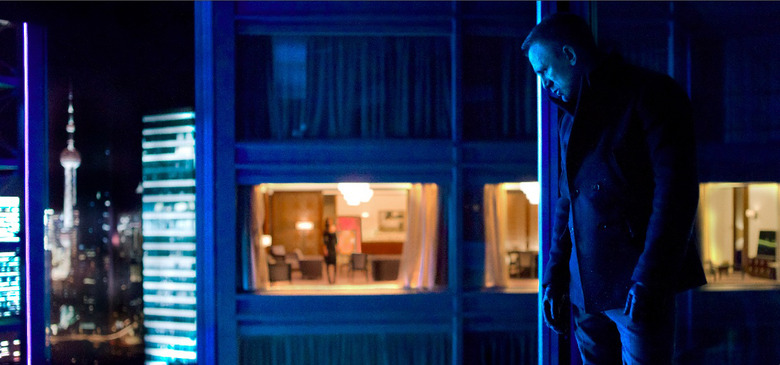 How easy is it to walk away from a franchise after delivering its biggest-ever success, especially when the span of the series covers fifty years? Director Sam Mendes has waffled on the idea of doing another Bond, at first suggesting that he wouldn't do a second Bond movie prior to the release of Skyfall, and slowly seeming more open to it. Now that the film is a monster success, is he rethinking?
We know that Neal Purvis and Robert Wade, who have worked on Bond films since The World is Not Enough, won't be back for Bond 24, and that Skyfall writer John Logan has been hired to draft the 24th and 25th films in the series. But Wade also says that the story idea for Bond 24 comes from Logan and Mendes... so is there a chance that Mendes will returns after all? Probably too soon to say, but here's what Wade had to say in a press release confirming his and Purvis' departure from the series:
We're very happy to have done five Bond movies, I think we've gotten it to a good place. I know that John Logan and Sam Mendes have come up with a plot for another one, which takes the pressure off because these films take up a lot of time.
We probably won't get any confirmation of the talent set for Bond 24 for a while, but at least we might have real info on that movie sooner than we do for the new Star Wars film.
More sequel news is after the break, including:
Star Trek Into Darkness will feature native IMAX film footage post-converted to 3D,
Zachary Quinto addresses rumors that the Trek sequel is his last,
Sylvester Stallone offers possible plots for The Expendables 3,
Vin Diesel delivers a couple new The Fast and the Furious 6 shots,
David Twohy debuts the Riddick logo and a look at Karl Urban in the film,
and new toys show off a couple new Monsters University characters.
Our info about Star Trek Into Darkness, IMAX and 3D comes from Erik Davis:
I did confirm that Star Trek Into Darkness is the first live-action movie w/ scenes shot with IMAX cameras that will be presented in 3D

— Erik Davis (@ErikDavis) November 16, 2012
When asked about details, Davis specified that there are parts of the Trek sequel that were filmed with proper IMAX film cameras, and that the footage was post-processed to create 3D.
Speaking of the Star Trek sequel, Spock's current actor Zachary Quinto seemed to suggest in an interview with Entertainment Weekly that Star Trek Into Darkness will be his last time in the role. He said,
It's like an era of association with certain roles – a specific part like Spock, or a kind of part, like Sylar — is coming to an end.
That was spun into rumors, not that there wouldn't be a third film to continue this incarnation of Trek, but that Quinto is out after the upcoming second film. The actor took to Twitter to counter that rumor:
simmer down kids. rumors are rumors for a reason. quotes out of context. let's let the second movie come out before we talk about a third...

— Zachary Quinto (@ZacharyQuinto) November 19, 2012
Granted, that raises questions of whether the second Trek film from J.J. Abrams will be the second Star Trek 2 to kill Spock, just as one big obvious question. We know that a third film has already been discussed — of course it has — but there's not going to be an answer to any of these questions before the latest film is released, on May 17, 2013.
Sylvester Stallone is talking about The Expendables 3, explaining where the story might go:
 The Expendables... they're broken up, they're shot, they've had it, they're done. We have to hire new us, we have to find new Expendables, but there are none! They don't make people like us anymore; they are all like robots. So I can go out and hire five young guys, but they're the new army, they got drones and technology, but they're not like us. Remember in Tropic Thunder? Just like those guys!
So... it's not really the Expendables, then? Maybe Sly is actually making one of those long-rumored Ghostbusters 3 plotlines? Asked to clarify, Stallone offered up another option. This one sounds vaguely like the two "female Expendables" films we've heard about.
There's another combination, and it involves girlfriends. Say I got divorced, say I am married to Sigourney Weaver, then she gets half the Expendables, she gets what I call The Expendabelles. So I need help and I have to go to her. And I'd like to have like Michelle Rodriguez, Gina Carano. It'll be something like that, very different... The main thing is it can't be about us! We're done. We need to bring in new blood. And you bring in geeks and girls and women, people who are different.
So where does Nicolas Cage fit into all this? If Stallone puts him in a wig and effectively remakes the Kurt Russell drag scene from Tango & Cash, I am SO IN. Keep in mind, too, that these quotes come through translation, so there could be an element of humor here that got lost. [BestMovie via Bleeding Cool]
Now lets hit the image gallery, just above. Vin Diesel, who is so happy to post photos to Facebook on a regular basis, just added two The Fast and the Furious 6 pics over the weekend. They look like... well, like pics from another Fast and the Furious movie. No big revelations here, I'm afraid. The film, directed by Justin Lin, hits on May 24, 2013, and also stars Paul Walker, Dwayne Johnson, Michelle Rodriguez, Luke Evans, Joe Taslim and Gina Carano.
Speaking of Vin Diesel, we've also got a look at the title treatment for the third Riddick film, called simply Riddick, along with a first look at Karl Urban as he appears in the movie. But the images come from director David Twohy, not Diesel. The director says,
Been pulling 14-hour days trying to finish RIDDICK. My typical day starts at 9am with intensive visual effects meetings, sweating out the details of our 900 VFX shots. Then I jet across town to the mix stage, Soundelux, where I supervise the sound, balancing out the often-competing elements of music, sound fx, sound design, and dialog. At night I hit the lab, Technicolor in Hollywood, staying until midnight to do "DI work" — color-correction of the movie. This is where David Eggby and I have one last chance to get the images right, dropping in grads and power windows to finesse what we shot on set. It's a great tool, the Digital Intermediate. Kind of like Photoshop for movies. Gotta love it. Gotta love the challenge of bringing it all home.
Riddick also stars Vin Diesel, Katee Sackhoff, Jordi Molla, Matt Nable, Conrad Pla, Raoul Trujillo, Nolan Funk, Keri Hilson, and Bokeem Woodbine
Finally, on a lighter note, the last four images in the gallery above are from StitchKingdom, which features some images of new tie-in toys for Pixar's upcoming Monsters University that introduce new characters. These come out of the International Association of Amusement Parks and Attractions (IAAPA) in Orlando, thanks to Twitter user Jeph216. Shots include toys for Mike Wazowski and James 'Sulley' Sullivan, but also for characters like Squishy and Art, who have been glimpsed in development materials, but are officially unannounced.