'This Is 40' Red-Band Featurette: Dealing With Constant Intimacy, And Fondling Megan Fox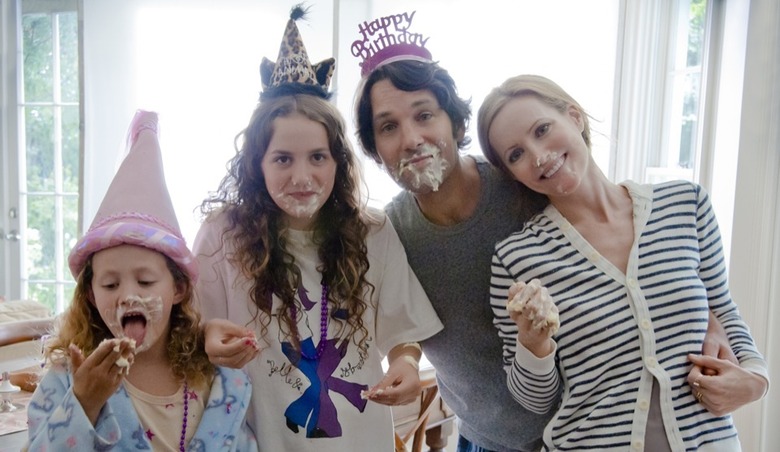 Let's just cut to the chase: there's a bit in this red-band featurette explaining Judd Apatow's new film This is 40 where Leslie Mann fondles Megan Fox. That happens at about the 2:45 mark. So just go watch that, and then get back to me. I'll wait.
OK, so this is a good attempt by Apatow, Mann, and Paul Rudd to ground the film and both put it in the context of Knocked Up (Mann and Rudd reprise their roles from that film) and position the story as a coming of middle-age tale that has something for all of us. In that respect, it does a better job for me than either of the trailers have in the past. The trailers played up a "this is the story of everyone" angle while depicting something that doesn't look like the lives of many people at all. This plays more like a means to explain specifically who these characters are rather than making them out to be representations of everyone. And in doing so, the actual broad appeal of the material comes across with more clarity.
Check out the footage below, and note that while there's some relatively adult sex talk and bad language, it really isn't all that serious, as red-band materials go.
Germain's review highlighted the rapid-fire nature of the jokes in the film, and this look at the movie helps create some expectations that conform to his take. In other words, it looks a lot more appealing.Yahoo has the featurette. This is 40 also features Jason Segel, Lena Dunham, Megan Fox, Chris O'Dowd, Melissa McCarthy, Charlyne Yi, Albert Brooks, John Lithgow and Annie Mumolo. It opens on December 21.
Writer/director/producer Judd Apatow (The 40-Year-Old Virgin, Funny People) brings audiences This Is 40, an original comedy that expands upon the story of Pete (Paul Rudd) and Debbie (Leslie Mann) from the blockbuster hit Knocked Up as we see firsthand how they are dealing with their current state of life.