'Now You See Me' Trailer: Jesse Eisenberg Is A Magical Robin Hood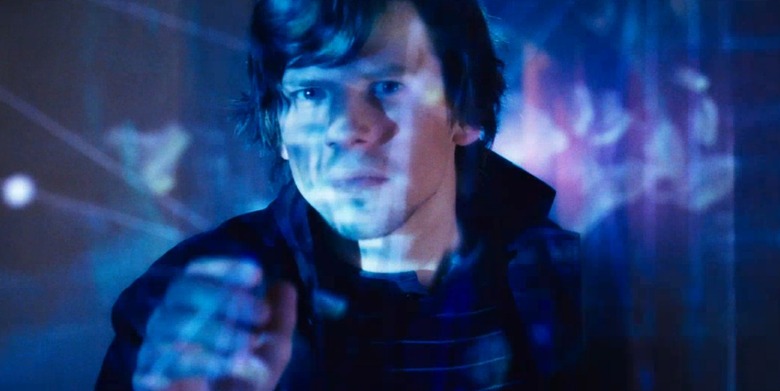 If three is a trend, stage magic seems to be Hollywood's next big obsession. McG recently signed on to direct Magic Castle, based on Hollywood's secretive club for magicians, but he's not even at the front of this wave. Next year sees the releases of The Incredible Burt Wonderstone and Now You See Me, both of which also center around illusionists.
But hey, if they all look this fun I'm not about to complain. Directed by Louis Leterrier, Now You See Me stars Jesse Eisenberg, Isla Fisher, Dave Franco, and Woody Harrelson as a quartet of acclaimed magicians who team for a special series of shows. Their jaw-dropping finale catches the attention of an FBI agent (Mark Ruffalo) and an Interpol agent (Melanie Laurent) when it turns out to involve literally stealing from the rich and giving to the poor. Michael Caine and Morgan Freeman round out the impressive cast. Watch the first trailer after the jump.
The first trailer is heavier on the action than I might have expected, which disappoints me a bit because the best parts of the video are the smaller character moments. As this is just the first trailer, though, I'm not too worried. Eisenberg in particular seems to be having a lot of fun as a flashier version of his dickish Social Network persona, and I greatly enjoyed seeing him outwitting an annoyed Ruffalo. Be careful, Jesse! You wouldn't like him when he's angry!
Now You See Me opens June 7.
The Four Horsemen, a magic super-group led by the charismatic ATLAS (Jesse Eisenberg), perform a pair of high-tech magic shows, first astonishing audiences by robbing a bank on another continent, and then exposing a white-collar criminal and funneling his millions into the audience members' bank accounts.
FBI Special Agent DYLAN (Mark Ruffalo) is determined to make the magicians pay for their crimes—and to stop them before they pull off what promises to be an even more audacious heist. But he's forced to partner with ALMA (Melanie Laurent), an Interpol detective about whom he is instantly suspicious. Out of desperation he turns to THADDEUS (Morgan Freeman), a famed magic debunker, who claims the bank heist was accomplished using disguises and video trickery. One thing Dylan and Alma agree on is that the Horsemen must have an outside point person, and that finding him (or her) is key to ending the magicians' crime spree. Could it be Thaddeus? Or Alma? Or could it really be...magic?
As pressure mounts and the world awaits the Horsemen's spectacular final trick, Dylan and Alma race to find an answer. But it soon becomes painfully clear that staying one step ahead of these masters of illusion is beyond the skills of any one man—or woman.