Star Wars Bits: Carrie Fisher Confirms Her Return, Billy Dee Williams Comments, Tom Hiddleston & David Tennant Want In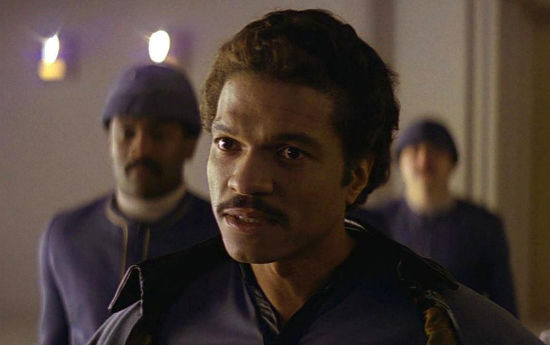 Two former Star Wars actors, as well as two actors also known for their genre work, have all recently commented on the new Star Wars films and, after the jump, we've collected their thoughts. Read about how:
Carrie Fisher told fans at a book signing that she will, in fact, be a part of Star Wars Episode VII.
Billy Dee Williams gave his thoughts while buying an Icee.
Avengers villain Tom Hiddleston and former Doctor Who, David Tennant, would both love to be a part of the film.
Until a press release is posted on StarWars.com, I refuse to believe anything on this topic 100% but, TheForce.net has a potentially significant update. At a book signing in New Jersey, Carrie Fisher was asked the question if she'll be returning for Star Wars Episode VII and she "quietly" said the following:
Yes....I thought it was already common knowledge.
Does that 100% confirm she'll be back? No, though most of us assume she, Mark Hamill and Harrison Ford will somehow be written in. Still, it's interesting to hear it directly from the source. Do you take this as confirmation?
While we've heard from Fisher, Hamill and gotten word on Ford's feelings, one major Star Wars player we have yet to hear from is Lando Calrissian himself, Billy Dee Williams. According to ScreenCrush, TMZ caught up with the Millenium Falcon's former owner at a gas station buying an Icee and while he refused to be on camera, he answered the question if he'd be interested in reprising his role in this short but sweet major.
I suppose so...
This deal is getting better all the time!
LucasFilm president Kathleen Kennedy has said the director they hire for Star Wars Episode VII could possibly be someone she's worked with in the past. If the same can be said for actors, star of Thor and The Avengers Tom Hiddleston already has a leg up. He worked with Kennedy on War Horse and told Digital Spy he'd love to be a part of the series. And, let's face it, he'd be amazing, even though his association with Marvel could be a detractor.
Finally, as exciting as it would be for a member of the Marvel Universe to enter a Star Wars film, I believe a former Doctor doing the same could be even bigger news. Former Doctor Who David Tennant spoke to the BBC and also said he'd love to appear in the film. He too has an in because he recently lent his voice to the Clone Wars TV series. Here's the video.
Here's the biggest thing to draw from all this. Anyone who was already in Star Wars is game for returning and anyone who loved Star Wars growing up is incredibly excited even for the sliver of hope they could be a part of it.