Sequel Bits: WB Explains Limited HFR Rollout For 'The Hobbit', Plus: 'Jack Ryan', 'The Twilight Saga: Breaking Dawn', 'Transformers 4', 'Star Trek Into Darkness'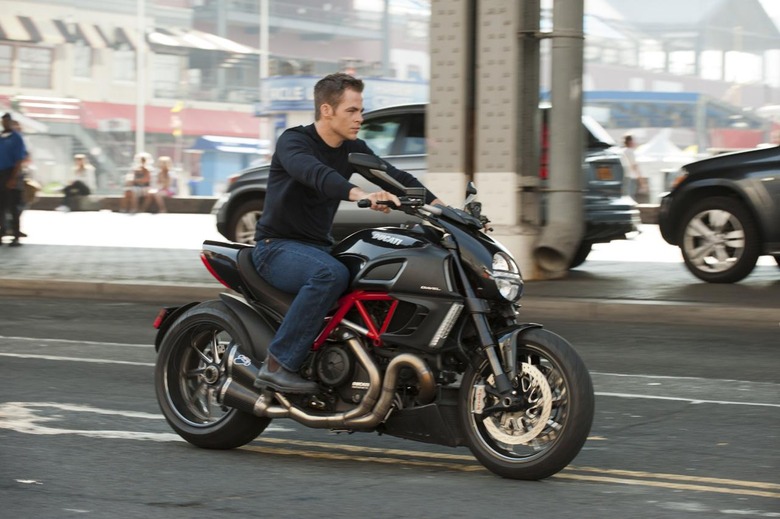 As you head into the weekend, we've got a few last sequel-related tidbits to chew on. After the jump:
Warner Bros. limited The Hobbit's 48 fps rollout to "do it right"
The Hobbit's Dori pledges himself to England's Prince Charles
Will Breaking Dawn Parts I and II be re-released as one movie?
Paramount is pushing for Transformers 4 to be set in China
Keira Knightley says Jack Ryan wraps shooting in December
Chris Pine has vague comments about Star Trek Into Darkness
Of the 10,000+ screens that'll be playing The Hobbit: An Unexpected Journey next month, just a few hundred will be showing them at Peter Jackson's preferred 48 FPS rate. Some speculated that WB feared negative audience reaction, especially after the negative buzz at CinemaCon. But the studio, for its part, insists that it's all part of an effort to give the unusual presentation its proper due.
"This is a technology that is going to change the way people see movies," said Dan Fellman, president of WB domestic distribution. "You have to do it right." Fellman pointed out that "equipment is being tested" now, and that they've already caught a few glitches that need correcting.
Fellman also explained that WB knew even at CinemaCon that 48 FPS, which the studio calls HFR, was unlikely to take over the industry right away. "We had no idea how fast or slow the equipment would be developed," he said. "We never expected to go 100%. At the time not one manufacturer was ready to do this. It was all in development." [Deadline]
J.R.R. Tolkien's dwarves don't generally answer to the British monarchy, but on the occasion of Prince Charles' 64th birthday, one pledged to do just that. During a visit to New Zealand, the prince took a tour of Peter Jackson's WETA workshop. At one point, Mark Hadlow, who plays Dori, dropped to his knees and proclaimed himself to be Charles' servant. Mostly because Jackson might've beat him bloody if he hadn't.
Head to Nerd Bastards to see more of Charles' visit, including a video of Charles chatting with actor Peter Hambleton (Gloin).
The Twilight Saga: Breaking Dawn may have been released in two parts, but since they're based on a single book, they only tell a single story. And director Bill Condon revealed during a press tour that he wants to eventually present them that way. In fact, he's working on the single extra-long cut of Breaking Dawn right now.
"Ultimately they are going to be one movie," Condon revealed. "And that's going to be an interesting thing, I haven't even actually looked at it that way yet. In fact, we're just starting to put that together." It's unclear whether the cut will be released on home video, or whether it'll actually make it into theaters — in which case fans will get to shell out a total of three times for the story. Hooray. [Movies.com]
Transformers 4 may or may not travel to Bangkok or the moon, but Paramount really hopes it'll set up shop in mainland China. The Michael Bay sequel is "likely" to be set in the country for the same reason every other movie seems to be headed there nowadays: Money.
As China becomes an ever more important part of the global box offices, studios are clamoring to get their films in wide release there. Shooting in China ups the odds, especially if a local production partner is involved. At this point, Paramount isn't confirming anything, and a spokesperson will say only that Transformers 4 "is not a Chinese co-production." Just don't be surprised if that changes in the near future. [Vulture]
After some setbacks and delays, Paramount's Jack Ryan reboot/prequel finally entered production this fall under the direction of Kenneth Branagh. Shooting commenced in Moscow in September, and according to star Keira Knightley it'll wrap up next month in London.
"I'm nearly at the end of it," Knightley said in a recent interview. "I think we finish early December." It'll be another year before we get to see the fruits of that labor, however. Jack Ryan is penciled in for a Christmas Day 2013 release. [Collider]
Thanks to J.J. Abrams' famous secretiveness, we still don't know a whole lot about what happens in Star Trek Into Darkness. While doing press rounds for his new film Rise of the Guardians, star Chris Pine offered a few more vague soundbites about what we might see in the next movie.
Like some leadership from Captain Kirk, perhaps:
Kirk is fun because he is a brash, cocky, bull-headed kind of guy. I think the journey he goes on in this new film is a lot about – the first one was about getting the chair and the second one is about earning it. And I think that is a big part of his journey.
And some exposition from the bad guy, played by Benedict Cumberbatch:
There's one scene in [Star Trek Into Darkness] that's like, you know... in all kinds of heavy science fiction there's got to be the exposition scene where it's like, what the hell's going on? It's a really, really, really hard scene. Not for me, for Benedict – and watching him handle that and to make something that I think, on paper, could have been a death trap for an actor and to see how he [deals with it]...
And yes, in case you were wondering, Abrams is a perfectionist:
JJ will be constantly tinkering with [Star Trek] until the last minute.
TrekMovie.com has more. Star Trek Into Darkness opens May 17.