Longer 'Beautiful Creatures' Trailer Gives Up Story And Campy Weirdness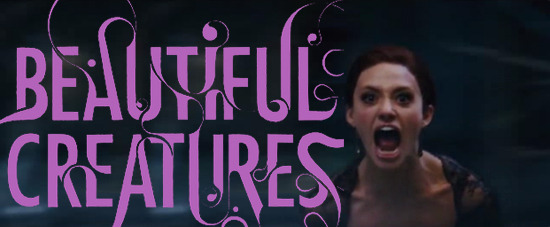 Is Beautiful Creatures the next Twilight? The film is a YA tale of a battle between good and evil supernatural forces, focused around the adolescence of a young witch, Lena (Alice Englert), whose powers will be claimed either for the light or dark when she hits her 16th birthday.
The film adapts Kami Garcia and Margaret Stohl's novel of the same name (the first of a multi-book arc, naturally) and if this new footage is anything to go by the movie definitely has a chance at, um, eclipsing Twilight. Not in the supernatural teen romance category, but for pure "WTF?" factor. A new international trailer runs down a good bit of the story, and also makes the film look like a campy, kooky mess. Some of the "southern" accents here are just marvelous, and for a movie about witches there's a hell of a lot of vamping going on. I don't care why Emmy Rossum is screaming towards the end of the trailer; I just want to loop that moment.
Beautiful Creatures opens on February 13. Apple has the trailer.
A supernatural love story set in the South, "Beautiful Creatures" tells the tale of two star-crossed lovers: Ethan (Alden Ehrenreich), a young man longing to escape his small town, and Lena (Alice Englert), a mysterious new girl. Together, they uncover dark secrets about their respective families, their history and their town. Oscar(R) nominee Richard LaGravenese ("The Fisher King,""P.S. I Love You") directs from his adaptation of the first novel in the best-selling series by Kami Garcia and Margaret Stohl. The film stars Alden Ehrenreich ("Tetro"), newcomer Alice Englert, Academy Award(R) winner Jeremy Irons ("Reversal of Fortune") Oscar(R) nominee Viola Davis ("The Help," "Doubt"), Emmy Rossum (TV's "Shameless") and Academy Award(R) winner Emma Thompson ("Howard's End," "Sense and Sensibility").