Benicio Del Toro To Play Drug Kingpin Pablo Escobar In 'Paradise Lost'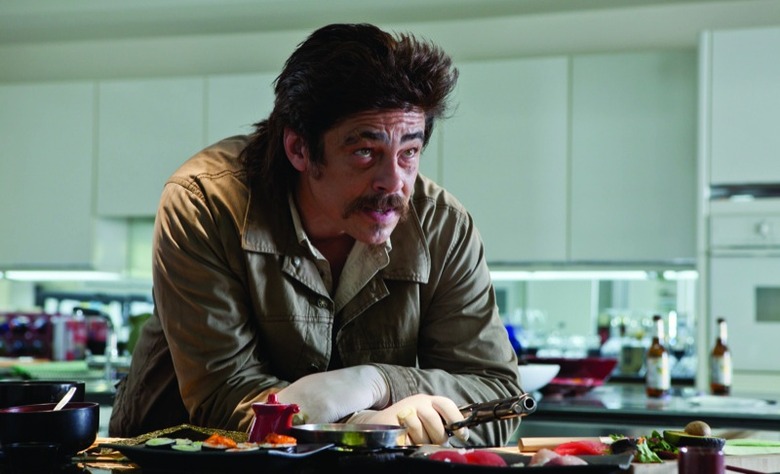 Over the past few years, we've seen several filmmakers try their hand at a Pablo Escobar biopic, with not much success. Neither Oliver Stone's Escobar nor Jor Carnahan's Killing Pablo managed to get off the ground, and the Brad Furman effort announced in 2011 doesn't seem to have gotten very far either. But it looks like the Colombian cocaine kingpin will be making it to the silver screen in the near future — and portrayed by the talented Benicio del Toro, no less.
The Oscar-winning actor is nearing a deal to play Escobar in Paradise Lost, a romantic thriller that will be the directorial debut of Italian actor-turned-filmmaker Andrea Di Stefano (Life of Pi, Nine). However, Di Stefano's movie isn't a biopic per se. Instead, it's a romantic thriller about a young couple with a destructive connection to Escobar. Read on after the jump.
Rassam praised del Toro as an ideal fit for the role, calling him "one of the rare actors with enough charisma and range to play such a multi-faceted character as Escobar, who could be wonderfully charming yet dangerous and menacing." Del Toro was last seen playing a cartel enforcer in Stone's Savages. He'll play another drug lord in the upcoming action-comedy Agent: Century 21, co-starring Cameron Diaz.
With a budget of about $25 million, Paradise Lost will begin filming this March in Panama. The shoot is expected to take about eleven weeks.