Paul Greengrass And Scott Rudin Will Chronicle Dr. Martin Luther King After All; Wild Bunch Backs 'Memphis'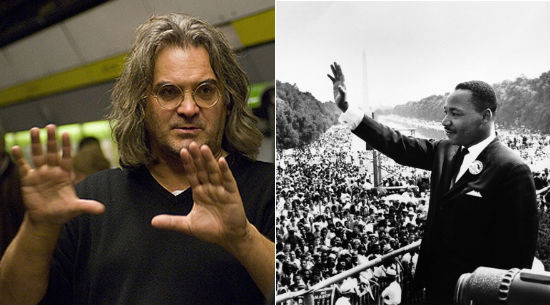 When Universal was shedding projects in 2011, one that was dropped was Memphis, a chronicle of Martin Luther King, Jr. from producer Scott Rudin and director Paul Greengrass (The Bourne Ultimatum, United 93). The film was ambitiously scheduled, with a hopeful release date set for this year's MLK holiday, and with Greengrass not being noted for his post-production speed.
But there was also question over whether the King estate approved the script. All told, the deck was stacked against the project, and Greengrass moved on to Captain Phillips. I joked when Universal cut the film loose that Annapurna Productions should step in, but in reality it looks like Wild Bunch is now going to finance Memphis, giving Rudin and Greengrass another chance to tell the story.
Deadline reports that the script "depicts Dr. King's final days as he struggled to organize a protest march on behalf of striking black municipal sanitation workers in Memphis, Tennessee, where he was slain." There's also a narrative thread about the search for King's assessing, James Earl Ray, which brought federal agents into the service of King's family — the same agents who, directed by J. Edgar Hoover, had worked to monitor and discredit King for years before his assassination.
We'll see if the script has changed at all from the one that the King estate had qualms about. (Due in part to the inclusion of King's infidelity — the estate has another biopic brewing, and likely wants the big-screen depiction of King to be as squeaky-clean as possible.)
Meanwhile, Captain Phillips, the film that Rudin and Greengrass collaborated on that follows the resolution of the most famous attack by Somali pirates, is done, but has been very quiet. Tom Hanks stars as Phillips and the cast also features Catherine Keener, Max Martini, Yul Vazquez, Chris Mulkey, David Warshofsky, Christopher Stadulis, and Corey Johnson. We know we'll see the film on October 11, 2013, and that year-off date is likely the reason we've yet to see anything from the movie.