Sequel Bits: 'Dawn Of The Planet Of The Apes', 'Pirates Of The Caribbean 5', 'Rush Hour 4', 'Friday 4', 'Drumline 2', 'Switch', 'Transformers 4', 'The Last Exorcism Part II'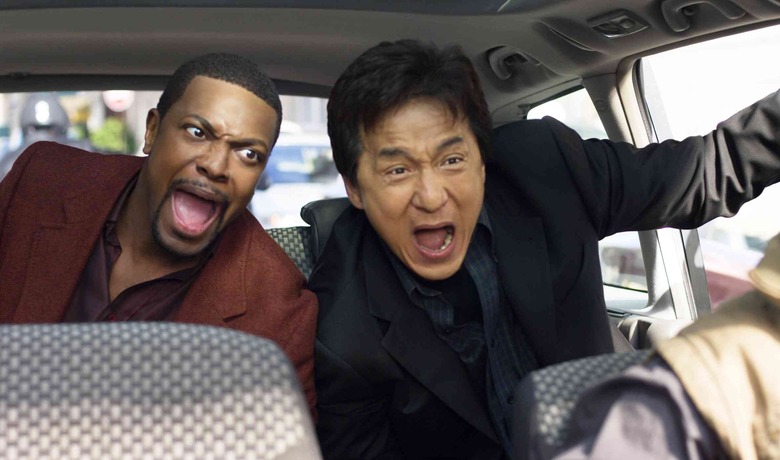 "Everyone wants to do sequels," says Chris Tucker. Indeed. After the jump:
Dawn of the Planet of the Apes gets a plot summary, will shoot in March
Keith Richards may return to the Pirates of the Caribbean series
Chris Tucker is interested in Rush Hour 4, not so much Friday 4
Nick Cannon talks up his plans for a Drumline sequel and TV series
Isla Fisher signs on for the kinda-sorta Jackie Brown sequel Switch
Transformers 4 explores Bangkok as a potential shooting location
The Last Exorcism Part II gets picked up by CBS Films; see a new image
"Dawn of the Planet of the Apes" continues the story of how ultra-intelligent simian Caesar (Andy Serkis) presides over the fall of human civilization. After the apes break out of their facility, a virus breaks out that causes the collapse of human society. The new project is taking the story to the next level, with the apes on the path to emerge as society's new rulers.
Okay, it's not a particularly revealing synopsis, since it mostly just recaps what happened in Rise of the Planet of the Apes and leaves the rest of the plot vague, but it's a start. Matt Reeves is directing Dawn of the Planet of the Apes, which is on track to open May 23, 2014. [Comic Book Movie]
Last month, Keith Richards told press that he was just waiting on "a call from Johnny [Depp]" to reprise his role in the Pirates of the Caribbean franchise, and now it seems Depp's finally gotten around to picking up the phone.
"I spoke to Johnny [Depp] a couple of weeks ago and he said, 'Are you up for another one?' I can leave it at that because I know no more," Richards revealed to BBC 6 Music. "But I do have the costume! (It helps because) some kids who don't know nothing (sic) about the Rolling Stones go, 'There's Johnny Depp's dad! There's Captain Teague, arrgh!"
Pirates of the Caribbean 5 has been in the works since before On Stranger Tides hit theaters, but doesn't have a release date as of yet. [Hollywood.com via Movieline]
Next weekend's Silver Linings Playbook marks Chris Tucker's first movie role in five years, and his first non-Rush Hour film in fifteen. So where's the newly returned actor headed to next? Another Rush Hour movie, perhaps. "Rush Hour 4, we're looking into it, me and Jackie [Chan]," Tucker said. "We're trying to get it going, so we're developing something, so hopefully we'll get something in."
The comedian also addressed one suggestion by producer Andrew Sarkissian, that the next installment could see Chan marrying Tucker's sister. "Yeah! I heard that. I don't know what he's talking about," he remarked, laughing. "We really want to take it back to the first one, the realness of it, and explore my character a bit more."
Less likely is the possibility of Tucker boarding another Friday movie:
The rumor got out there that I'm doing Friday 4, but the Internet — they lying! It's kind of crazy. My fans are so hyped up about it and I didn't want to let them down, so at one point I said, "We'll see," but I'm pretty sure now I won't do another one. I'm still fascinated that they love that movie the way they do, and if they do another one, I think it would be good, but I want to do some different stuff. Keep moving.
[Vulture]
A decade after the first Drumline was released, news recently broke that a Drumline 2 and possibly even a TV show were in the works. Nick Cannon announced via Twitter that he'd produce, and Shadow and Act reports that he may even direct. And, on top of all that, he'll likely act — though not in a lead role. Cannon let slip a few plot details while speaking to Parade Magazine:
I'll probably make a cameo, but I'll be mostly in the background. My character was based off the music producer Dallas Austin, and so I think my character will probably be in and out of different episodes, as well as the film, as a very successful music producer that [band director] Dr. Lee can call on and say 'Hey, I was the one who discovered you and got you on the right path.' Whenever he needs a favor, he calls on my character. We're trying to bring a lot of the other characters back and we're looking forward to discovering new talent.
Wouldn't that be more of a recurring role than a cameo? In any case, Cannon also explained the connection between Drumline 2 and Drumline the TV show. "Drumline 2 will actually be a two-hour version of the first episode for a television show on VH1," he said. "It's going to be a dramedy with the same tone as the film. When you think of the shows that are on now, like Glee, and even The Game on BET, it will have those tones." [via MTV]
Dan Schechter's Switch isn't formally a prequel to Quentin Tarantino's Jackie Brown, but it's been informally described as such since both movies are based on books by Elmore Leonard, with overlapping characters. One is Melanie, who was played in the 1997 movie by Bridget Fonda. In Switch, which takes place fifteen years before Jackie Brown, she'll be played by Isla Fisher.
Fisher joins a rather interesting cast that also includes Yasiin Bey (née Mos Def), John Hawkes, Jennifer Aniston, and Ty Burrell. Dennis Quaid was also once attached to star, but has since dropped out. [Variety]
There's been talk that Michael Bay's Transformers 4 could see the human and robot cast headed outer space, but it appears filmmakers are eyeing another, less exotic locale as well. Location manager Ilt Jones has just finished up a tour of Thailand, where he explored Bangkok as a possible shooting location for the sci-fi actioner. Transformers 4 is currently slated to open June 27, 2014. [THR]
CBS Films has acquired the sequel to The Last Exorcism, and in the process given it a new title, synopsis, release date, and image. The film will now go by the slightly less ridiculous sounding The Last Exorcism Part II. See, that way it sounds less like another last exorcism (which would by definition make the previous one not the last exorcism) and more like a continuation of the same, last exorcism.
And here's the slightly altered new synopsis:
Continuing where the first film left off, Nell Sweetzer (Ashley Bell) is found alone and terrified in the woods.  Back in the relative safety of civilization, Nell realizes that she can't remember entire portions of the previous months only that she is the last surviving member of her family.  Just as Nell begins the difficult process of starting a new life, the evil force that once possessed her is back with other, unimaginably horrific plans that mean her last exorcism was just the beginning.
The first photo, we're assuming, shows off some of the effects of said "horrific plans":