Alexander Skarsgård And Samuel L. Jackson Wanted For David Yates' 'Tarzan'; Plot Details Revealed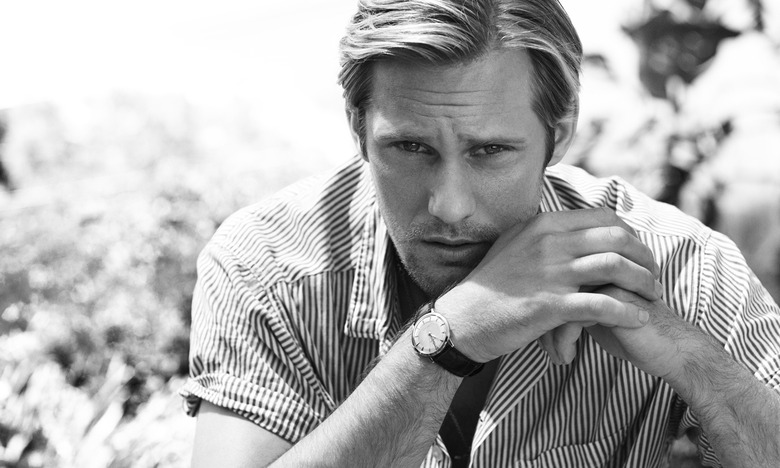 Alexander Skarsgård has been teetering on the verge of movie stardom for a while now, but even as peers like Tom Hardy and Henry Cavill have found their way to comic book tentpoles, Skarsgård's mostly been alternating between TV roles (Generation Kill, True Blood), indies (Disconnect, What Maisie Knew), and supporting parts in higher-profile pics (Battleship). Not a bad path, but not quite the A-list career his fans have been predicting.
That may be about to change, though. Skarsgård is reportedly the frontrunner to lead David Yates' Tarzan, WB's long-gestating adaptation of Edgar Rice Burroughs' classic character. He could be starring alongside Samuel L. Jackson, who's being considered for another key character. More details, including a plot description, after the jump.
[Skarsgård] would play John Clayton III, known around the world as the famous "ape man" Tarzan. Years after he's re-assimilated into society, he's asked by Queen Victoria to investigate the goings-on in the Congo. Tarzan teams with an ex-mercenary named George Washington Williams to save the Congo from a fierce warlord who controls a massive diamond mine.
Samuel L. Jackson is being eyed to play Williams, a Civil War veteran eager to redeem himself for his part in the massacre of Native Americans.
The script's gone through several hands over the years, including John August, Cormac and Marianne Wibberly, and Adam Cozad. Jerry Weintraub, Alan Riche, Peter Riche, and Keith Goldberg of Dark Horse Entertainment will produce.
No final decision has been made regarding casting, and no formal offer has been extended. But Skarsgård is Yates' top choice, and WB seems to like him as well. The actor is already attached to star in the WB projects Hidden (a thriller) and The Vanguard (a Viking epic). Jackson's casting isn't set in stone yet, either.
Presumably these decisions will get firmer once the studio officially greenlights Tarzan, as it's expected to do by the end of the year. Should everything go according to plan, Tarzan will begin filming in summer 2013.