Oz Or Wonderland? Disney Really Wants Us To Equate Sam Raimi's Latest With Tim Burton's Fantasy Hit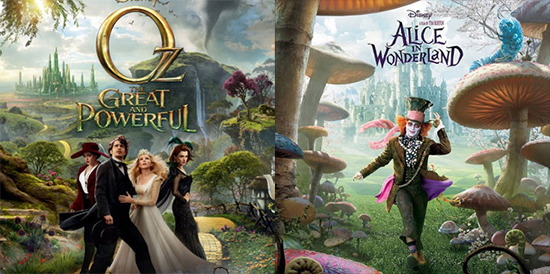 Briefly: Earlier today we ran the completed banner created to advertise Sam Raimi's Oz: The Great and Powerful. Since the first footage of the film premiered this past summer at Comic Con, we've talked about the degree to which it looks like Tim Burton's Alice in Wonderland, which was a monster hit for Disney. The similarity is due in part to a common factor: production designer Robert Stromberg, who is now directing Disney's Maleficent.
But it is also due to another common factor: those at Disney who very evidently hope the film will replicate the billion-dollar success of Burton's movie. If you had any doubt, just check the image below, which shows they're not taking any chances with the marketing.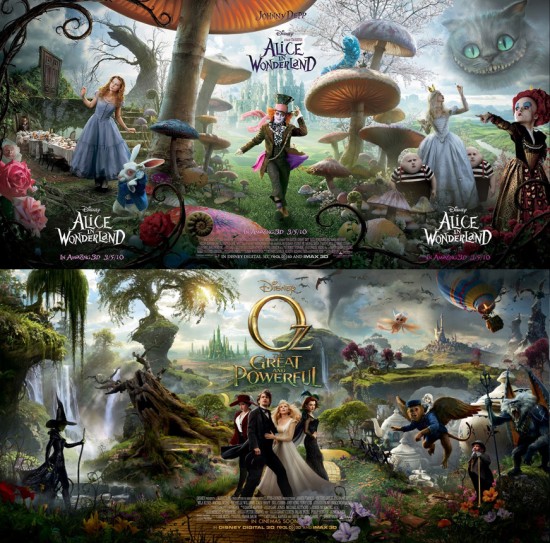 Thanks to the Reddit user who was on the ball with this comparison; click that image to enlarge. Frequent Disney go-to design house BLT Communications did the Alice campaign, and is also credited with the teaser poster for Oz.
What's your take here? Cynical marketing, or just the way things are when talking about a big-budget prequel from a studio that wants to ensure it ends up with a hit? And until we see even more of the film, can we assume that the similarity between films is more than skin deep? I'm hoping Raimi's movie has its own personality — it is Raimi, after all — but this isn't doing much for my sense of anticipation.