'21 And Over' Trailer: 'The Hangover' Goes To College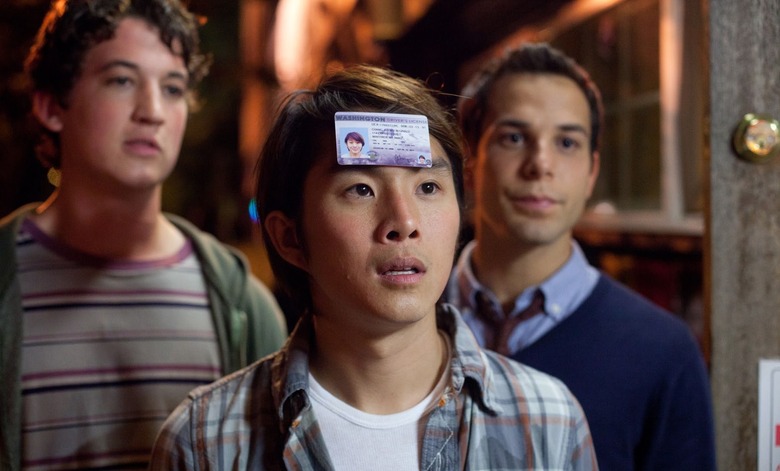 We've witnessed frat boy shenanigans from both grown-ass men (Old School, the Hangover films) and underage teens (Project X), and we'll be seeing them from the senior citizen set when Last Vegas opens next year. But such antics never seem more appropriate than when they're being perpetrated by actual college-aged kids.
21 and Over is exactly what the title suggests — a comedy from the "one crazy night" subgenre about a boozy 21st birthday celebration gone horribly, hilariously wrong. Justin Chon (Twilight) stars as birthday boy Jeff Chang, who's planning a quiet night at home in preparation for an important grad school interview. His plans change when his BFFs (Miles Teller and Skylar Astin) arrive unannounced, dragging him out for a wild evening that just keeps getting stranger. Watch the trailer after the jump.
The obvious resemblance to The Hangover films is no coincidence. 21 and Over marks the directorial debut of Jon Lucas and Scott Moore, who wrote the first movie. It's just surprising that Todd Phillips isn't directly involved here, considering that these stories are kind of his thing.
21 and Over seems to follow the usual formula for this type of film, and there doesn't seem to be much to set it apart. The shenanigans on display here aren't especially shocking or debauched, compared to other, similar movies, and none of the lines or incidents really stood out to me. Or maybe I'm just cranky because it's a Monday.
21 and Over opens March 1, 2013.
Straight-A college student Jeff Chang has always done what's expected of him. But when his two best friends Casey and Miller surprise him with a visit for his 21st birthday, he decides to do the unexpected for a change, even though his critical medical school interview is early the next morning. What was supposed to be one beer becomes one night of chaos, over indulgence and utter debauchery in this outrageous comedy.