New 'Oz The Great And Powerful' Images Show Massive Landscapes, Beautiful Witches, And More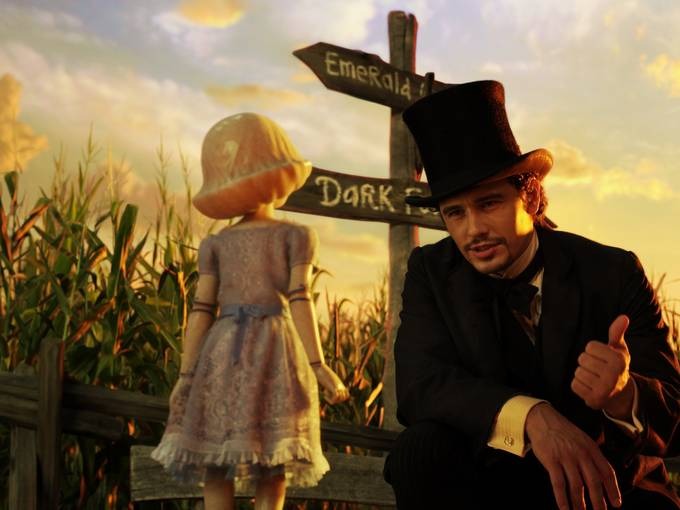 Your trip to Sam Raimi's Oz is just a few short months away. Oz The Great and Powerful, Raimi's prequel to The Wizard of Oz, has long felt miles away. But after a crazy summer at the movies and a promising fall, the film's March 2013 release has crept up on us. That means a whole new onslaught of marketing, which recently started with some new posters. Now eight new images have been released that show the epic scope of Raimi's interpretation of Oz, and several of the film's stars (James Franco, Michelle Williams, Mila Kunis, Rachel Weisz) in all their wonderful glory. Check them out after the jump along with a few new quotes from the star and director.
All of the images come from USA Today.
Most of what's in the USA Today article has already been reported here (or seen in the teaser trailer): how Franco's character finds himself run out of town, ends up in Oz and must try and save the land from a series of witch sisters played by the aforementioned talented actresses. Still, here's what Raimi had to say about the trajectory of the film:
[Franco's character Oscar Diggs] is mistaken for Oz the Great and Powerful, destined to be the next king of Emerald City. But he's only to receive that title if he can defeat the Wicked Witch.
He also talked about the image above, showing Franco talking to the China Doll:
Everything in the land, the houses and people made of china, have been broken by the Wicked Witch and her army. Oscar find the pieces of this china doll and puts them together, and hence the China Girl (voiced by Joey King) is saved. He's telling her she has to go back to the Emerald City, where she'll be well taken care of. But she won't have any of it. He's going to learn by the end of this scene that he's not the only huckster in the bunch.
Expect a new trailer in the coming weeks leading up to the release on March 8, 2013. How do you like the look of the film?