Exclusive: Laurent Durieux's Gorgeous 'Oz' Poster Among The Highlights At 'Gang's All Here' Exhibit In Brooklyn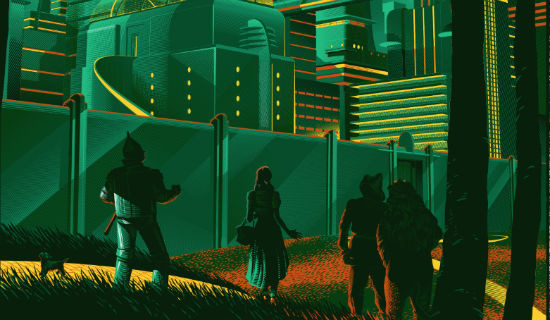 If this summer's blockbuster film The Avengers taught us anything, is that there's power in numbers. Thor or Iron Man are good on their own but, when they're part of a team, they're great. That team-up mentality is the focus of the latest art show at the Bottleneck Gallery in Brooklyn, NY. It's called The Gang's All Here and features art based on films, TV and more where a group of people team up for a cause. Which is actually quite a common story device, once you start thinking about it.
The show opens this Friday, November 16 and features some of the best gallery art we've seen in a while. For real. Just one example is a piece we're happy to debut, Laurent Durieux's The Wonderful Wizard of Oz, a stunning tribute to L. Frank Baum's work. But then there's also stuff centering on Attack the Block, The Lost Boys, Hook, Watchmen, Game of Thrones, Alien, Seven Samurai, Monty Python, Super Troopers, Harry Potter, Star Wars and so much more, all of which focus on a group of people teaming up.
After the jump, check out a huge preview gallery of images and the exclusive reveal of Dureaux's piece.
Here's Durieux's piece. It's a 24 x 34 inch screenprint in a regular (orange sky) edition of 150 and variant glow in the dark (green sky) edition of 75. They cost $55 and $75 respectively.
And here is a huge preview of other images. Most of these are screenprints which will first be available at the opening reception running from 7-10 p.m. November 16 at 60 Broadway, in Brooklyn. It'll remain open until December 7. Head to their site for gallery hours and info. Mouse over each for the artist's name.
All remaining posters will go on sale Saturday November 17 around noon EST at the above link. Some of my personal favorites, besides the Durieux, are Liwag's Hook piece, the 100% Soft Lost Boys piece and Reza's Attack the Block piece, mostly because those are properties we rarely see in poster form. Also, a special plug for Paul Shipper whose Star Wars Disney variant, above, is sure to be an insta sellout. (Also – how awesome is Anderson's 80s toy shelf?)
What are your faves above? Also, don't forget, this is just a small sliver of what'll be on display Friday at Bottleneck.