Patton Oswalt And Rosemarie DeWitt Join Season 2 Of HBO's 'The Newsroom'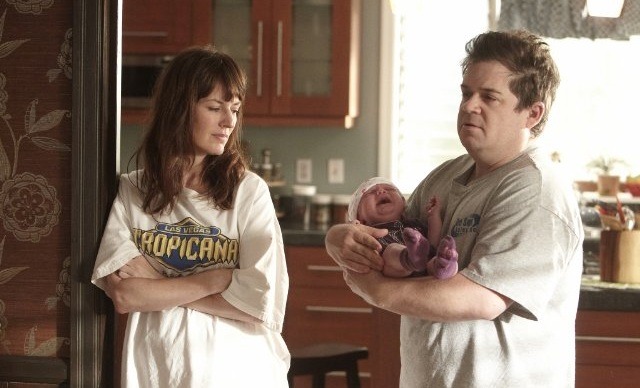 HBO's The Newsroom already stars Jeff Daniels, Emily Mortimer, Sam Waterston, and Alison Pill, among many others, with recurring appearances by folks like Jane Fonda, Chris Messina, Hope Davis, and Paul Schneider, so I don't think that casting was ever really the problem with the show. Still, I suppose it never hurts to add a few more great guest stars.
The newest arrivals at the Atlantis Cable News offices are Rosemarie DeWitt and Patton Oswalt, two actors I'm pretty much always happy to see. Both are expected to recur in the next season of the Aaron Sorkin media drama. Read more after the jump.
It's not clear how much overlap their characters will have, but The Newsroom represents a reunion for the two actors. Previously, the pair starred together on Showtime's United States of Tara as an on-again, off-again couple.
Oswalt is probably better known for his comedy work, but he's proved to be an adept dramatic actor as well in films like Big Fan and Young Adult. He'll be seen next year in the thriller Odd Thomas and the dramedy The Secret Life of Walter Mitty.
On the flip side, DeWitt often stars in serious fare like Rachel Getting Married and Mad Men, but was last seen in the alien invasion comedy The Watch. Her upcoming slate includes the Gus Van Sant drama Promised Land with John Krasinski and Matt Damon.
The Newsroom has yet to announce an exact return date, but it's currently slotted for June or thereabouts.