VIDEO: George Lucas And Kathleen Kennedy Talk Directors, George's Role And The 'Daunting' Prospect Of New 'Star Wars' Films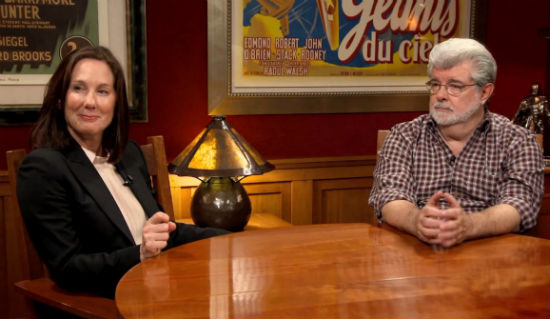 Amongst the non-stop speculation about what's happening with Star Wars Episode VII there has only been one concrete piece of evidence. It was the first part of a ongoing video discussion between LucasFilm President Kathleen Kennedy and George Lucas. That's where they dropped the news that they'd be talking with writers and that Lucas had handed Disney a story treatment.
A second part of the video, which will apparently continue on a weekly basis, has just been posted and it's even better. The pair discuss how certain directors they've met with have been excited but daunted as the prospect of playing in the Star Wars universe, Kennedy says she has people in mind that she's worked with in the past and they'll only hire someone who has a special affinity for the franchise and truly appreciates it. Lucas also talks specifically what "creative consultant" really means.
Lots of interesting little hints here coming straight from the source. Check it out below.
Here's the video from StarWars.com
And here's the first part from last week, in case you missed it or what to refer back.
These interviews look like they were all filmed at the same time and if discussions with these writers and directors (many of which we've reported on in the past few days) are ongoing, I'm not sure how much news can break in this weekly series. But in a world of infinite speculation, these are truly the two best sources out there and these videos are the only gospel.
What can you take from this video? If the director will be someone Kennedy has worked with in the past, who is the best choice?