'Back To 1942' Trailer: Adrien Brody And Tim Robbins Combat Famine In China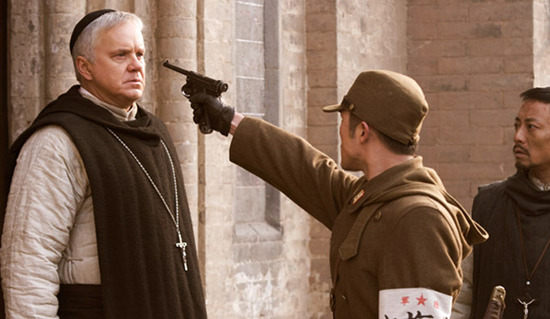 If you were perhaps looking for a companion piece to The Flowers of War, in which a big western star (Christian Bale) played in a film about Chinese history, then Back to 1942 might be it. Here Adrien Brody and Tim Robbins are two men caught up in social and political upheaval in China's Henan province, which in the film's timeline is enduring the worst famine in modern Chinese history.
There's a gritty look to much of the footage here that looks great; this is the sort of giant film that Chinese directors such as Feng Xuigang — who directed here — have been able to put together lately with increased funding at home. But there's also an earnestly serious tone here that almost veers towards the unintentionally comic that I can't tell if the film will play well. Regardless, check out the trailer below.
Back to 1942 has no US date at this point, but it premieres soon at the Rome Film Festival, which runs November 9 through 17. [via The Playlist]
In 1942, Henan province was devastated by the most tragic famine in modern Chinese history, resulting in the deaths of at least three million men, women and children. Although the primary cause of the famine was a severe drought, it was exacerbated by locusts, windstorms, earthquakes, epidemic disease and the corruption of the ruling Kuomintang government. At night, hundreds of famished farmers descend with sickles and torches on the household of Landlord Fan (Zhang Guoli) in North Henan province. He holds the final stocks of grain in Laozhuang Village. Afraid of the angry mob, Fan prepares a banquet for them in his own home. But old feuds break out and his property is burnt to the ground in an accidental fire. Meanwhile, war is about to break out between Japanese troops and Nationalist forces in North Henan. The province's full supply of grain is to be diverted to the Chinese troops. Realising the danger, provincial chairman Li Peiji (Li Xuejian) pays a visit to Generalissimo Chiang Kai-shek (Chen Daoming) in Chongqing, but doesn't have the courage to speak up.
While we're on the subject of Tim Robbins, there's also the news that the actor is set to direct the indie Man Under, in which he'll also star, alongside Michelle Pfeiffer and Chloe Moretz. Variety calls the film "in the vein of American Beauty and The Royal Tenenbaums," which are pretty distinctly different movies in the first place.
But the story here follows "a Yonkers family whose lives are changed forever when a photo of them ends up in the Museum of Modern Art," which sounds like a good starting point. Ann Cherkis scripted.