Sequel Bits: 'Skyfall', 'Star Wars VII', 'Five 2', 'Machete Kills', 'The Hobbit'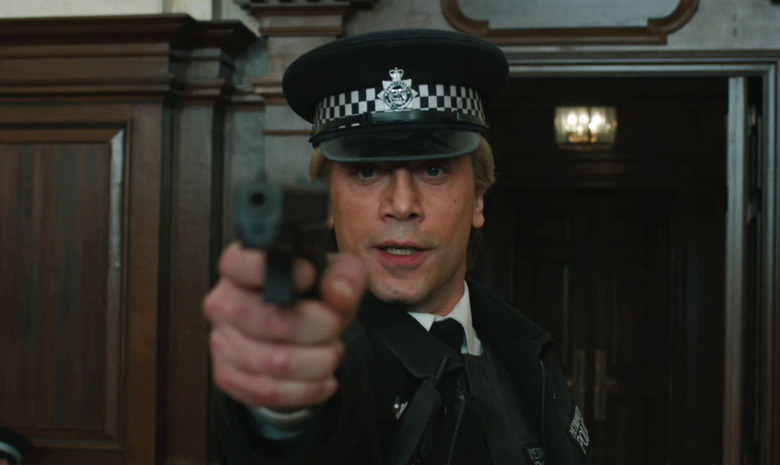 This eclectic edition of Sequel Bits covers everything from the Lifetime Channel to Machete Kills. After the jump:
Javier Bardem says he was offered Bond way back when
Carrie Fisher would be interested in doing Star Wars VII
Melissa Leo and Octavia Spencer join Lifetime's Five 2
Spy Kids star Alexa Vega is all grown up in Machete Kills
See Luke Evans as Bard the Bowman in The Hobbit
Here's where you can watch The Hobbit in 48 fps 3D
Years ago, I was. I don't remember what movie it was for. But yeah, it just was not that time. I didn't feel that it was the time for me to do something like that. And also, I was doing something else, so I passed. This time, when I read it, I felt that it was very powerful material, and I wanted to join [a Bond movie].
Frankly, it seems so unlikely that producers would offer the iconically British role to a Spanish actor that I have to wonder if Bardem misunderstood the question. Perhaps he only meant he'd been offered some role in some Bond movie. But in any case, the actor says he doesn't regret the earlier decision to pass on the franchise:
I have passed on many things that I could easily regret, but I don't regret any of them, because that also gives room for something else to come that I'm proud of. Even if those things were not beautifully executed, those were the things that I believed in at the time.
Skyfall opens tomorrow, November 9 in the U.S.
Though we can't be sure of anything until Disney confirms it, it's been widely rumored that Star Wars VII would feature older versions of Luke, Leia, and Han. Harrison Ford's already gone on record saying he'd be "open to the idea" of returning to the series, and unsurprisingly it sounds like Carrie Fisher would be as well.
TMZ tracked down the actress while she was walking her dog. While she seemed understandably irritated at the interruption, she gave an unambiguous response when asked whether she'd be willing to come back to Star Wars. "Yes. Sure," she said. "Wouldn't you?" [via Egotastic]
Lifetime is preparing the awkwardly titled Five 2, a follow-up to its 2011 anthology Five. To get things rolling, it's nailed down some intriguing talent. Jennifer Hudson, Melissa Leo, Octavia Spencer, and Sarah Hyland are set to star in the film, which follows various characters affected by breast cancer, while Laura Dern will direct one of the segments. Lifetime isn't really our usual beat, but that's a solid lineup no matter what channel it's on. [Variety]
The last time Robert Rodriguez and Alexa Vega worked together, it was for the cute, family-friendly Spy Kids series. Their latest collaboration, however, looks a little different to say the least. Vega appears as a character named Killjoy in Machete Kills, and a first peek at her bikini-clad, gun-toting character shows without a doubt that she's all grown up.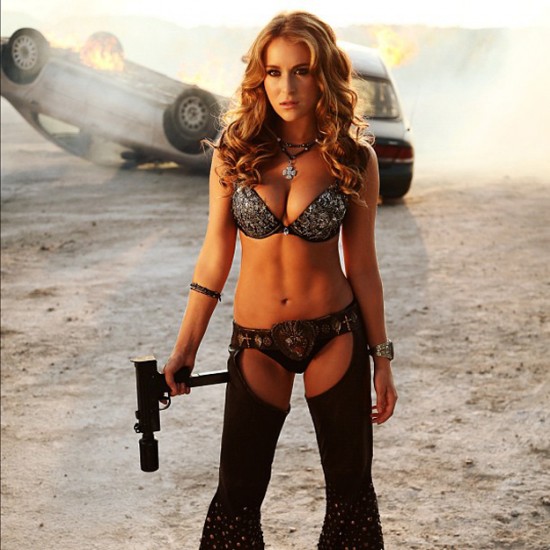 Vega has previously told press that the role was "all about owning [her] sexuality." "I worked really hard for it in a way that I never had to work hard for something before," she said. Machete Kills will hit theaters sometime next year. [SuperHeroHype]
Despite the onslaught of video and images from The Hobbit: An Unexpected Journey, we haven't seen much of Luke Evans' Bard the Bowman yet — probably because the character's big moments come later in the story. But for those anxious to see what he'll look like, we have a new batch of set photos to give you a taste.
[via Comic Book Movie]
Looks good — now we just have to wonder how he (and the rest of the cast) will look in Peter Jackson's unusual 48 frames per second (as opposed to the industry standard 24 fps) rate. Warner Bros. has chosen 450 theaters across the country to screen the movie at the higher frame rate, and now the exact locations are slowly being revealed.
Bleeding Cool has a list of 91 Regal locations that will show the picture in 48 fps 3D, which WB calls "HFR 3D," plus a separate list of 70 Cinemark venues that will do the same. All HFR screenings will be in 3D, and tickets for those showings will cost the same as those for 24 fps 3D screenings. Also keep an eye out on 48fpsmovies.com for more updates.
Tickets are on sale now for The Hobbit: An Unexpected Journey, which opens December 14. Part 2, The Hobbit: The Desolation of Smaug, will hit December 13, 2013, followed by The Hobbit: There and Back Again on July 18, 2014.