TV Bits: 'Luther', 'Fringe', 'Touch', 'Boy Meets World', Doc Brown, SpongeBob SquarePants, Diablo Cody, James Cameron, David S. Goyer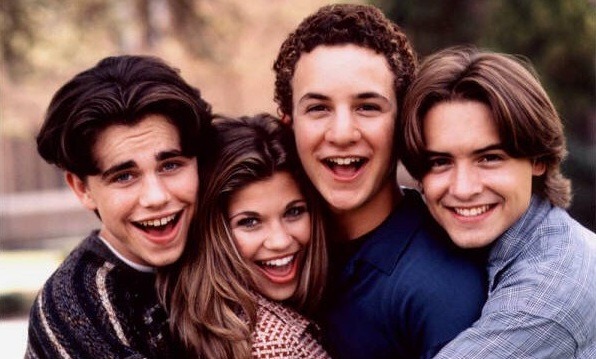 We may receive a commission on purchases made from links.
More details emerge on that Boy Meets World sequel, and you may be surprised to learn what Cory's up to these days. Also after the jump:
Christopher Lloyd brings his DeLorean to Raising Hope
SpongeBob gets stop-motioned for a holiday special
See the sexy first trailer for Starz' Da Vinci's Demons
James Cameron is producing a climate-change doc
Diablo Cody sells a Millenial/GenX comedy to ABC
Elementary lands the plum post-Super Bowl slot
Luther is getting a third season with four episodes
24's Jack and Renee will reunite on Fox's Touch
Fringe sets an early 2013 date for its series finale
This holiday season, SpongeBob SquarePants is giving the world the gift of stop-motion animation. Nickelodeon's first stop-motion special, It's a SpongeBob Christmas! "finds all of Bikini Bottom in a festive mood as they prepare for Santa's arrival. But not Plankton, who's once again expecting a lump of coal. So he comes up with his most diabolic new scheme yet, one that practically guarantees he'll finally get the gift he's always wanted – the Krabby Patty secret formula!" Watch a behind-the-scenes video about the special below:
The double episode will air Friday, November 23 on CBS, followed by a Nickelodeon debut on Sunday, December 9. But if you can't wait that long, just head over to Amazon and order the DVD now. [Cartoon Brew]
Starz has debuted a first trailer for Da Vinci's Demons, which centers around ultimate Renaissance Man Leonardo da Vinci in his youthful days. Don't expect dry History Channel-style biography, though. This da Vinci has more in common with Christopher Nolan's Batman or The CW's Green Arrow than he does the wizened, bearded man from the centuries-old portraits. Not coincidentally, Da Vinci's Demons comes from David S. Goyer, writer of Batman Begins and Man of Steel.
Da Vinci's Demons will air in 2013. [io9]
In case all of this totally insane weather we've been having lately still hasn't convinced you that climate change is real issue that needs to be addressed immediately, James Cameron will speed up the process with a new documentary series. The Avatar director and Jerry Weintraub are producing The Years of Living Dangerously, an eight-part doc about the impact of climate change on a personal level.
The project will see famous Hollywood actors meeting and interviewing victims of natural disasters like drought, hurricane, and pestilence. The idea is to "give the issue a human face" by linking those individuals' sad tales with the shifting climate. The Years of Living Dangerously has gotten as far as a sizzle reel, and Showtime is seeking additional financing. An air date has not been announced. [The Wrap]
If you happen to be somewhere between, say, your mid-20s and early 30s, there's a good chance you grew up along with everykid Cory Matthews. Now your own kids could get their chance to meet the Matthews family. The Disney Channel has begun developing a Boy Meets World sequel titled Girl Meets World, which would follow Cory and Topanga's upbeat 13-year-old daughter Riley. Other characters include Riley's older brother Elliot, and Riley's "dark, edgy, acerbic" best friend Maya.
Original stars Ben Savage and Danielle Fishel aren't signed on yet, but the network is reportedly interested in having them reprise their roles. According to an Ausiello scoop, Cory will be the new Feeney — he's Riley's history teacher. [TV Line]
Diablo Cody is coming to primetime with Alex + Amy, a comedy about a 32-year-old woman and her driven 22-year-old boyfriend, who decide to move in together. Generational differences are likely to play a big role in the humor, as the logline emphasizes that she's a Gen Xer and he's a Millennial. Cody previously created the TV series United States of Tara, which ended its run on Showtime last year. [EW]
CBS' Elementary has proved to be one of the standouts of this year's freshman crop, so no surprise the network is eager to give it a big push. The Sherlock Holmes-based procedural has just won the coveted post-Super Bowl slot, on Sunday, February 3 immediately following the game. [TV Line]
Luther fans can breathe a sigh of relief. BBC One has posted a video announcement of the crime drama's upcoming third season, which will consist of "four perfectly dark, chillingly-formed episodes."
Kiefer Sutherland is bringing the FBI to Fox's Touch. Annie Wersching, who played FBI agent Renee Walker in the last two seasons of 24, will guest-star on Sutherland's current series in an episode to air sometime in the spring. She'll play Dr. Kate Gordon, a kind and intelligent family therapist who specializes in childhood trauma and behavior. Touch returns to Fox February 1. [EW]
Fringe may never have received the viewership that fans and the network hoped it would, but it's lasted long enough to get a proper farewell. And now we know exactly when that will be. Fox has set the two-part season finale for January 18, 2013, starting at 8 PM. [TV Line]