Remake Bits: Get A Taste Of The Japanese 'Unforgiven,' Plus 'Oldboy,' 'Mortal Kombat,' And Simon West Takes Over 'Heat'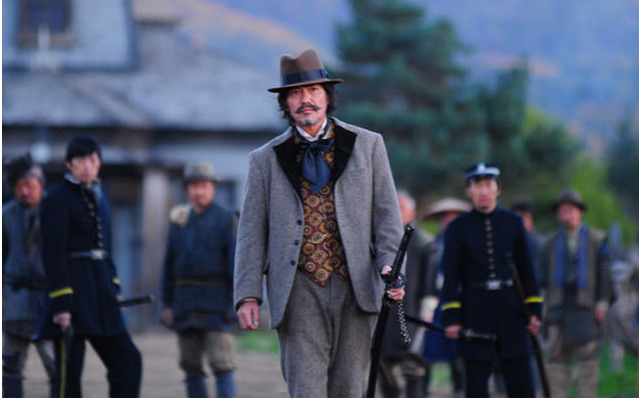 Conan the Barbarian isn't the only guy getting the Unforgiven treatment. The 1991 Clint Eastwood western has become a genre landmark, essentially nailing shut the concept of the anti-hero created when the spaghetti western subgenre flowered with A Fistful of Dollars in 1964.
Now Ken Watanabe is playing the Eastwood role in a Japanese-produced remake of Unforgiven, which is set in Japan in 1880. Lee Sang-il directs, with part of the film oriented around Japan's transition out of very secluded tradition to a more modern society able to come to terms with outside influence. That conflict has been played out in Japanese cinema many times before, especially as many samurai films were essentially rebranded westerns. So this remake seems like nearly an inevitability.
See some shots from the film below, along with a few other news items:
Simon West will direct a remake of the Burt Reynolds film Heat,
the new Mortal Kombat film has a rough budget,
Josh Brolin, Elizabeth Olsen and a bizarre stranger caught in Oldboy set pics,
and an Oldboy cast member talks about Brolin's physical transformations for the film.
The Unforgiven shots, from Twitch, are first in this gallery:
When we first reported on the potential remake of Heat, the William Goldman-scripted Burt Reynolds film from 1986, Brian De Palma was set to direct. Things have changed, and The Expendables 2 director Simon West will now be in the director's chair. Jason Statham (who also worked with West in another remake, The Mechanic) will play the Reynolds role, which means he'll be a gambling addict who takes on the mob after one of his friends is killed over an outstanding debt.
Goldman also wrote the novel the original film is based on, and he has long said he was unhappy with the movie verison. His script is partially the basis for this version, making this a second chance of sorts for Goldman. Cory Yuen, who directed Statham in The Transporter, is working as the action director and fight choreographer on Heat. [THR]
Warner Bros. and New Line are still planning a new feature version of Mortal Kombat, with Kevin Tancharoen directing. Tancharoen directed the online spec short that landed him the MK gig, but we still don't know much about the feature version. One tiny bit of info might give fans a general window of assumption, as Lance Sloan from Warners has said (via CBM) that Tancharoen will be making a $40-50m movie.
The other thing that's important to probably highlight is that we're preparing right now for the featured film with the same kid. Kevin Tancharoen directed the digital series for us. Before that he did a renegade video that he put up on YouTube. And we sent the piracy people after him, to take it down and put him in jail. And cut to a couple months later he was directing the digital series for us. And now he is at the helm of a forty, fifty million dollar feature film.
Finally, the later shots in the gallery above are set pics from the Spike Lee version of Oldboy. Elizabeth Olsen is sporting a noticeable tattoo as she plays the social worker who ends up giving a helping hand to Josh Brolin, as a man mysteriously imprisoned for fifteen years. That photo of Brolin is pretty striking, too, but far more interesting is who or whatever is on the right side. What's going on there? [Daily Mail]
But we're not done with Oldboy. James Ransone, who replaced Nate Parker in Lee's film, has gone on record talking about Brolin's physical performance as Joe Doucett. Ransone explained to EW that he's "playing a doctor who works with Elizabeth Olsen's character at this medical clinic," and that he's playing a "nice person," and that "they've taken more from the comic book than they did from the original movie, in the script."
He also explains,
In the remake, the captivity scenes are longer than in the original. In the remake, they get more in-depth. What Josh did to his body, I've never seen an actor do before. He showed up pretty lean, pretty cut, and they shot the scene pretty much in sequence. In the course of nine days, he was ripped, he was fat, and then he was ripped again. He gained 35 pounds in one week, and then he dropped 19 pounds. I think Josh is so talented at what he does, I think there's no way it's going to be that bad. I met him for the first time last week. I've never worked with him before.
Oldboy opens on October 11th, 2013.
OLDBOY follows the story of an advertising executive (Josh Brolin) who is kidnapped and held hostage for 20 years in solitary confinement without any indication of his captor's motive. When he is inexplicably released, he embarks on an obsessive mission to discover who orchestrated his bizarre and torturous punishment only to find he is still trapped in a web of conspiracy and torment. His quest for revenge leads him into an ill-fated relationship with a young social worker (Elizabeth Olsen) and ultimately to an illusive man (Sharlto Copley) who allegedly holds the key to his salvation.