Directing Bits: Joe Dante Directing 'Air Disturbance,' Max Landis Debuts With 'Me Him Her,' Shawn Levy On 'This Is Where I Leave You'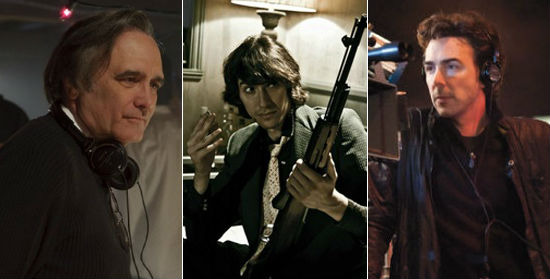 Three directors recently booked brand new films: one underworked, one overworked and another making his debut. After the jump read about
Joe Dante will be directing the horror-thriller Air Disturbance.
Shawn Levy takes over This Is Where I Leave You, a family comedy originally set for Adam Shankman
Writer Max Landis will make his directorial debut with Me Him Her, a "sexual identity comedy."
Though Joe Dante released a movie fairly recently (The Hole) he's still considered one of those great talents who gets criminally under used. The director of Gremlins and The Burbs will try to change that by making a film called Air Disturbance with New Line Cinema. Starring Dylan Walsh and Robert Englund, the film is about a flight from Los Angeles to Toronto that begins to experience turbulence that may, or may not, be supernatural. It starts shooting at the end of November. Read more at Coming Soon.
Shawn Levy is always keeping busy. He's currently working on next year's The Internship and has several options after that (The 39 Clues, Fantastic Voyage, Frankenstein, it's a long list). He can now add another movie to it, This Is Where I Leave You, a dramatic comedy set up at Warner Bros. that was supposed to be directed by Adam Shankman. However, after Shankman lost a few members of his all-star cast (which originally included Jason Bateman, Jason Sudeikis, Malin Akerman, Zac Efron and Leslie Mann) the project got put into "a holding pattern."Variety says with Levy now aboard, the project will likely shoot in the Summer and be the director's next film. Written by Jonathan Tropper, based on his own novel of the same name, the film follows a large dysfunctional family forced to sit shiva for their father.  There's no word, however, how many of those actors will appear, if at all.
Last up, Chronicle writer Max Landis also has a bunch of projects in the works, but they're all on the page. He's decided to move behind the camera for the film Me Him Her, a "sexual identity comedy" about three twenty-somethings living in Los Angeles. It's described as "Reality Bites on acid." Since Landis has so many writing gigs to complete, this probably won't shoot till next year, but it'll be interesting to see if his talents as a writer transfer to the more social skill of directing. Head to Variety to read more about the project.