First Look At 'World War Z' Footage [Updated With Teaser Poster]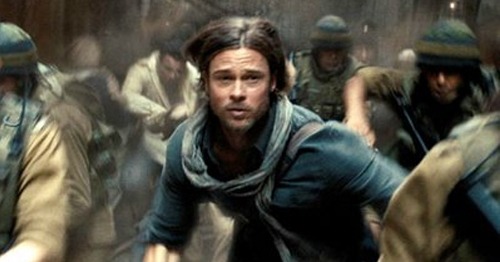 Marc Forster's adaptation of the Max Brooks novel World War Z ran into some problems a few months ago when it had to go in for extensive rewrites and reshoots late in the game. Starring Brad Pitt as the Guy Who Has to Save the World (very loosely based on the primary narrator of the novel, a UN inspector whose work documents a zombie pandemic) the film was pushed from a late 2012 release back to June 21, 2013.
The trailer for World War Z will hit on Thursday, but in the meantime check out a bit of footage thanks to an Entertainment Tonight tease for the show's coverage of the film. The talking heads aren't nearly as irritating as they typically are. OK, they're still pretty irritating, but at least you've got a chance to get a look at what Forster has done with loads and loads of fast-moving digital zombies. 
The speed and ferocity of some of that footage looks good, but there's also a generic feel to it. But judging based on a clip like this is foolish, so we'll wait at least for a good trailer.
Matthew Fox, David Morse, Mireile Enos and James Badge Dale also star. [ET]Update: Here's the very, very basic teaser poster that was released today.