Harrison Ford Open To Returning For 'Star Wars: Episode VII'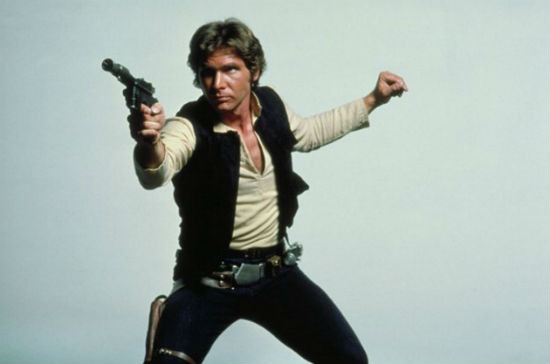 Few would argue that Han Solo was one of the best characters to come out of the Star Wars mythology. The scoundrel with swagger not only made a low hanging holster look cool, he turned a flying hamburger into an icon, made a simple acknowledgment a romantic mantra, saved the universe and got the girl. However, at the end of Star Wars Episode VI: Return of the Jedi, Solo's true journey was really just beginning.
While the inclusion of Solo's storyline in the newly announced 2015 film Star Wars Episode VII, as likely leader and significant other, is still a point of debate, one thing is now clear. A source tells Entertainment Weekly the actor who portrayed him, Harrison Ford, is "open to the idea" of returning if need be. Not only that, he's "upbeat about it."
Read more and speculate after the jump.
Entertainment Weekly's information comes from a "highly placed" source, who also informs them Ford wouldn't commit until he saw a script, met a director, and probably got a juicy death scene. (Click here to see just how confident they are in the source.)
Since the bombshell announcement of Episode VII, many of the rumors have centered on the next trilogy of films either taking place a generation after Return of the Jedi, which would mean Ford and his co-stars Mark Hamill and Carrie Fisher wouldn't be needed, or slightly sooner, with them holding mentor roles. The more that things unfold, the more convincing the latter begins to sound.
Would Ford be talking about this if someone hadn't brought up the idea he might be needed? It's no surprise the same source tells EW Hamill and Fisher are equally open to the idea of returning and reprising their signature roles.
In the years following Return of the Jedi, Ford regularly distanced himself from the series, refusing to appear at conventions or talk at length about it. However, in recent years, that's begun to shift. The 70-year-old appeared at a 30th anniversary screening in 2010 and has once again started to embrace the kind of roles that made him a star. He returned to the Indiana Jones franchise in 2008, starred in a big budget Hollywood blockbuster (Cowboys and Aliens) after that and makes his official return to sci-fi next winter with Ender's Game. If ever we were going to see Han Solo again, it's now or never.
On a personal note, Han Solo is my favorite character in the history of cinema and his surrounding iconography – carbonite, Millenium Falcon, blasters – are some of my favorite pieces of the Star Wars mythology. To see Ford conclude his story, whether it be as the leader of the Rebel Alliance, a Galactic Senator or simply the father of some budding Jedi, would probably make my mind melt.
Do you think this is going to happen? What would Ford returning to this series mean to you? How could he fit in?