John Cusack Developing Rush Limbaugh Biopic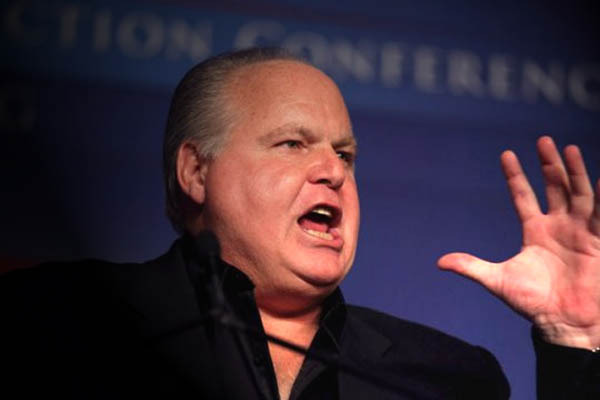 I don't know what's going on with John Cusack this season, but fans of the actor are likely pretty happy. Last week he was announced as the lead for three new features: an adaptation of Stephen King's novel Cell, the "Duel in the sky" thriller Airspace, and the financial world drama Due Process.
Now he's got one more new project, and it's one that will have some audiences hungry to see the outcome: Cusack is attached to play radio host and giant worthless political gasbag Rush Limbaugh in a biopic called Rush.
THR and the AP have news on the project, which is being produced by Cusack's company New Crime Productions. Betty Thomas (The Brady Bunch Movie, I Spy, Private Parts) is set to direct, with the script nearly complete.
Cusack's company released this statement to THR:
New Crime Productions and John Cusack are currently considering a project about the larger-than-life radio personality, Rush Limbaugh. Betty Thomas, who covered similar terrain in her portrait of Howard Stern, is interested in directing. The script would explore the rise and reinvention of American Talk Radio, and Limbaugh's continued influence and impact over the last three decades in that world.
Despite the fact that most of Limbaugh's professional career has been spent behind a desk and microphone — not the most cinematic setting — his life is full of enough drama that there's plenty of material for a movie. What else do you expect from a guy who has spent most of that career (since the repeal of the Fairness Doctrine in 1987, after which the FCC didn't mandate a balance in the presentation of controversial political issues) working to exploit our willingness to pay attention to ever-more extreme viewpoints?
I'd love to see a film in the vein of Altman's Secret Honor that just features Cusack and Limbaugh ranting behind a desk, alone and gradually aging, for 90 minutes. Whether this movie will echo any of the ideas expressed in Oliver Stone's Talk Radio, or will balance Betty Thomas' previous film about Howard Stern remains to be seen. I hope this isn't just a means to ridicule Limbaugh, however, as his own statements are good enough at that. This film would just be redundant in that respect.