Sequel Bits: 'The Twilight Saga: Breaking Dawn Part 2', 'The Best Man 2', 'How To Train Your Dragon 3', 'The Hobbit: An Unexpected Journey', Stephenie Meyer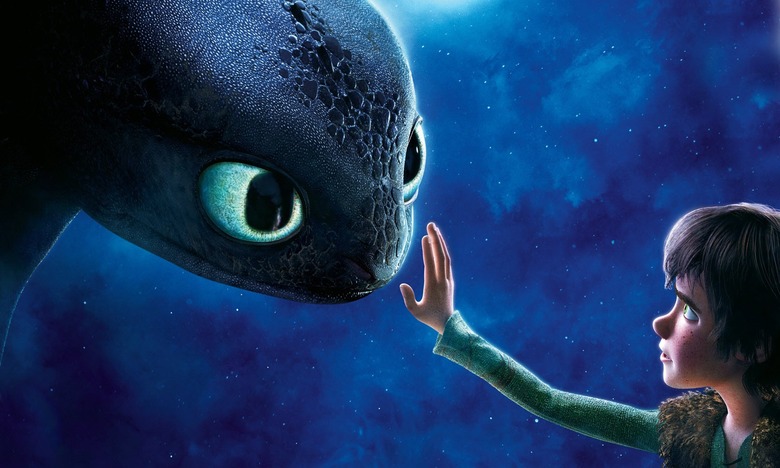 Time for a quick rundown of the latest sequel news. After the jump:
Breaking Dawn Part 2 ending is different from the book's
Also, Stephenie Meyer has more ideas for Twilight tales
Universal's The Best Man 2 is coming next November
DreamWorks is "looking at" How to Train Your Dragon 3
Fox will air a How to Train Your Dragon special in December
See the tracklist for The Hobbit: An Unexpected Journey
Lautner was careful not to give away too much, but affirmed that there would be a change. "You know, there's a very thin line because the fans would freak on us if we changed anything too much...I can confirm there is a twist and I can confirm everybody can find out what it is on November 16," he responded. [The Playlist]
In possibly (but probably not) related news: Although the cinematic Twilight Saga is set to end with Breaking Dawn Part 2, there've been rumblings of some kind of spinoff or continuation. Adding fuel to the fire, author Stephenie Meyer admits she may not be ready to say goodbye to the Cullens just yet.
"I even planned out where it would go for a couple more books," she said at a press conference. "So I know exactly what would happen, I mean there are a lot of characters I think would have a voice in those other stories. I don't know, maybe I'll write it out someday for myself." Regardless of our personal feelings on the series, they've been good business for both Meyer and Summit — no wonder they're tempted to continue the franchise beyond this month's finale. [The Playlist]
Scary Movie 5 director Malcolm D. Lee has a second sequel due out next year. Universal has just set a November 15, 2013 release for a sequel to The Best Man, Lee's 1999 directorial debut. The original centered on a writer (Taye Diggs) whose autobiographical novel wreaks havoc on his immediate social circle, including his about-to-be-married best friend (Morris Chestnut). In addition to helming the new film, Lee will also write and (with Sean Daniel) produce. [Deadline]
The first How to Train Your Dragon proved a big hit for DreamWorks in 2010, so naturally the studio's eager to keep the franchise going as long as possible. A second movie is due out in 2014, and now CEO Jeffrey Katzenberg is telling analysts that they're "looking at" the possibility of a third film down the line. This isn't exactly a shocker, as the movie already announced a tentative 2016 release date in September. If you were wondering how far along the film was, though, well, now you know.
But you don't really have to wait two whole years to see Hiccup and Toothless in action again. Fox will air a half-hour special titled DreamWorks Dragons: Gift of the Night Fury, with Jay Baruchel, America Ferrera and Gerard Butler voicing the leads once again. Here's the official plot summary:
GIFT OF THE NIGHT FURY is a story of faith, love and friendship that takes viewers on an adventure of dragon-sized proportions as the villagers of Berk prepare for the winter holidays. As the festivities approach, the dragons make a sudden mass exodus, leaving HICCUP (Jay Baruchel), ASTRID (America Ferrera), STOICK (Gerard Butler) and the rest of the gang saddened by the loss of their winged friends. A wild turn of events leads Hiccup to discover a mysterious, never-before-seen island and learn the true reason why the dragons left the village. Friendship and loyalty abound in this touching holiday tale of spreading one's wings, but always staying close to home. As Hiccup says, "The only real comfort against the cold are those you keep close to your heart."
Tune in December 17 at 8:00 PM to see what happens. [Deadline]
The overall Hobbit story will be a familiar one for many folks going into the theater this December, but the specifics of what we will or won't see in An Unexpected Journey have been a little tougher to puzzle out. The just-revealed soundtrack listing for the film may hold some clues, though I'll leave it to people better versed in Tolkienology to do the detailed analysis.
Naturally, this movie isn't spawning just one soundtrack but two — one "standard" version, and one deluxe "special edition" cut. Here's the tracklist for the latter:
DISC 1:
My Dear Frodo
Old Friends (Extended Version)
An Unexpected Party (Extended Version)
Blunt the Knives performed by The Dwarf Cast
Axe or Sword?
Misty Mountains performed by Richard Armitage and The Dwarf Cast
The Adventure Begins
The World is Ahead
An Ancient Enemy
Radagast the Brown (Extended Version)
The Trollshaws
Roast Mutton (Extended Version)
A Troll-hoard
The Hill of Sorcery
Warg-scouts
DISC 2:
The Hidden Valley
Moon Runes (Extended Version)
The Defiler
The White Council (Extended Version)
Over Hill
A Thunder Battle
Under Hill
Riddles in the Dark
Brass Buttons
Out of the Frying-Pan
A Good Omen
Song of the Lonely Mountain (Extended Version) performed by Neil Finn
Dreaming of Bag End
EXCLUSIVE BONUS TRACKS
A Very Respectable Hobbit
Erebor
The Dwarf Lords
The Edge of the Wild
Or, if you'd rather get the pared-down "standard" edition:
DISC 1:
My Dear Frodo
Old Friends
An Unexpected Party
Axe or Sword?
Misty Mountains performed by Richard Armitage and The Dwarf Cast
The Adventure Begins
The World is Ahead
An Ancient Enemy
Radagast the Brown
Roast Mutton
A Troll-hoard
The Hill of Sorcery
Warg-scouts
DISC 2:
The Hidden Valley
Moon Runes
The Defiler
The White Council
Over Hill
A Thunder Battle
Under Hill
Riddles in the Dark
Brass Buttons
Out of the Frying-Pan
A Good Omen
Song of the Lonely Mountain performed by Neil Finn
Dreaming of Bag End
Both versions of the soundtracks hit shelves December 11. The film opens three days later, December 14. [Fandango via FSR]