'Transformers: The Ride 3D' Coming To Universal Orlando Theme Park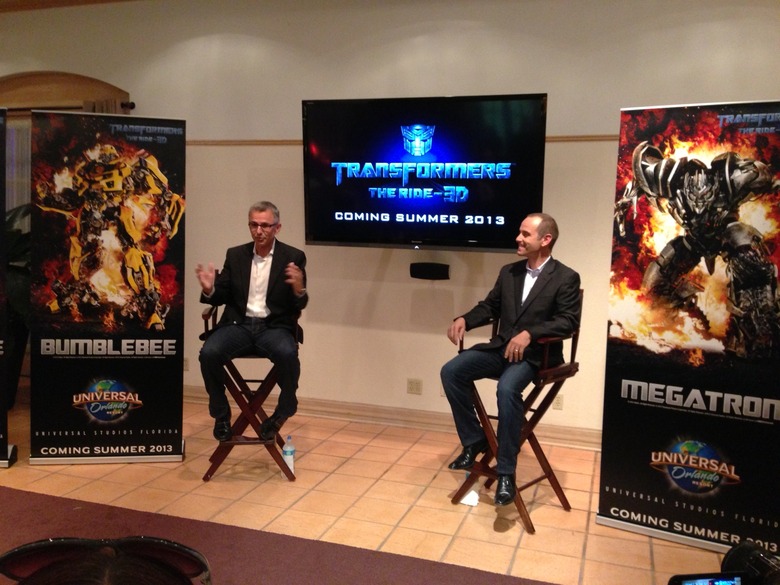 The following is a special report from /Film's theme park correspondent Reza Lackey who was in Orlando for the official announcement last night:
The Autobots will soon be rolling out to Universal Orlando for a summer 2013 opening of Transformers: The Ride 3D. Last night, Universal Orlando announced the coming attraction during a small pre-show segment to their fairly new water show, Cinematic Spectacular. Video, photos and more information, after the jump.
After the announcement, we sat down with the President and Senior VP of Universal Creative, Mark Woodburry and Thierry Coup, respectively. They very briefly discussed the attraction and answered a few questions. Most notably, the ride will be identical to the Hollywood and Singapore versions, but the queue and show building will be completely different. The construction in Orlando is the most complex attraction they've ever built at this pace – moving as fast as they can to capitalize on the attractions current popularity in the other parks.
One of the few criticisms the attraction receives is the lack of physical sets and animatronic Auotobots. Sadly, we won't be seeing any more of either in Orlando.
Transformers: The Ride 3D is one of the best attractions Universal has in its arsenal and its great that more guests will be able to experience it. Being able to see the Autobots (even virtually) at their proper scale is something fans have always wanted and are now given a greater opportunity to do so.
While construction moves at a lightning pace, something across the park is also being built and seems to also be coming along rather quickly: The expansion of the Wizarding World of Harry Potter. While no solid details exist, it is rumored to feature a wild new ride.
Interesting Trivia Bit: Steven Speilberg envisioned the Transformers: The Ride 3D gag which involves the on-ride scene of Evac (the ride vehicle) being pulled through the interior of an office building.