Posters: 'The Hobbit: An Unexpected Journey' Gets Seventeen Character Onesheets, 'Les Misérables' Couples Cozy Up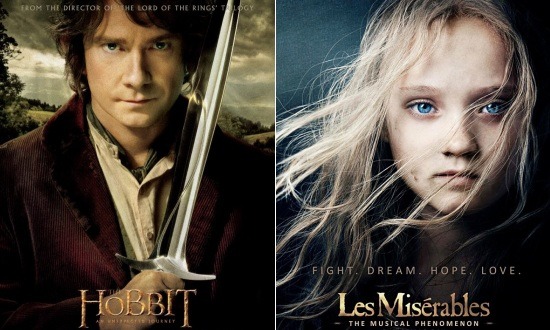 Individual character posters are practically de rigeur when marketing a big franchise tentpole, but it's a strategy that works way better when the film in question has, say, four to ten main characters. The Hobbit: An Unexpected Journey features no fewer than seventeen characters that Warner Bros.' marketing team has deemed onesheet-worthy, which just seems like overkill no matter how important each of them are.
Meanwhile, Universal's solution for the sprawling cast of Les Misérables is to pair some of them together for their posters. The problem is that the two released this week — spotlighting the Thénardiers and Cosette and Marius — don't really look like they're from the same movie. Check them out after the jump.
[via The Playlist]
Peter Jackson's The Hobbit: An Unexpected Journey opens December 14, with The Desolation of Smaug due out in 2013 and There and Back Again in 2014. So get used to these faces, because you'll be seeing a lot of them for the next two years.
Next up are the two couples posters for Les Misérables. The romantic one featuring Marius (Eddie Redmayne) and Cosette (Amanda Seyfried) isn't exactly imaginative, but at least it looks appropriate for a period musical. The one of the Thénardiers (Sacha Baron Cohen and Helena Bonham Carter), on the other hand, seems better suited for a dark holiday-themed comedy directed by Tim Burton. Hopefully the comic relief is incorporated more gracefully within the actual movie.
[via HuffPo]
Directed by Tom Hooper, Les Misérables opens Christmas Day.