First Look: 'Brave' Spinoff Short 'The Legend Of Mor'du'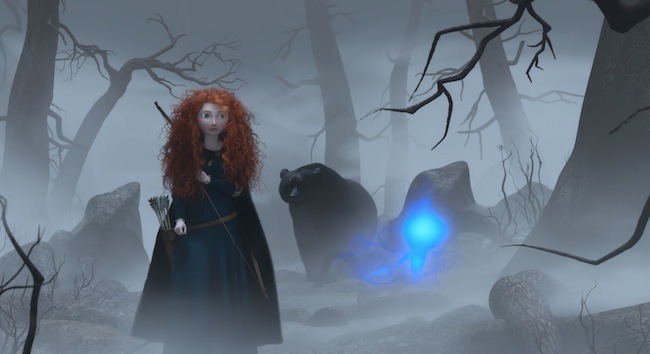 It's tradition for Pixar to run an animated short ahead of their theatrical features, and said short usually comes packaged with the full-length movie in the DVD / Blu-ray release as well. For Brave, however, Pixar is including not one but two short films. The first is La Luna, which we already saw when it played in front of Brave in theaters, while the second is an all-new movie titled The Legend of Mor'du. Get a first look after the jump.
The new short will explore his history in greater detail. Director Brian Larsen described the film to EW as a "cautionary tale." "If you are selfish and not working in the right direction for the greater good you can destroy a huge part of your family — and yourself," he said. "A lot of tales and legends, like Grimm's fairy tales, were like that. If you do some things, there's a bad outcome, and not always a happy ending."
Although the film will open and close with the Witch (voiced by Julie Walters), who's telling the story to a customer, the bulk of it will show Mor'du's tale in a textured, almost hand-painted 2D style. The look is based on the concept illustrations often created in the early stages of an animated film production. Only instead of using them as a jumping-off point, The Legend of Mor'du is using the style for the finished product.
In particular, Larsen cited artist Mary Blair as his inspiration. "Going back to Mary Blair, we don't get to flex those muscles all the time because we usually work in a 3-D animated world, so it just felt extra special that we could be in that painterly style," he said. "It gives it a texture — what you're seeing is somebody's imagination of this event, almost like a dream in some ways. It's not real. It's romanticized."
Get a first glimpse here:
Brave comes to DVD and Blu-ray on November 13.