'This Is 40' Review: Judd Apatow's Latest Is Hilarious, But Never Quite Connects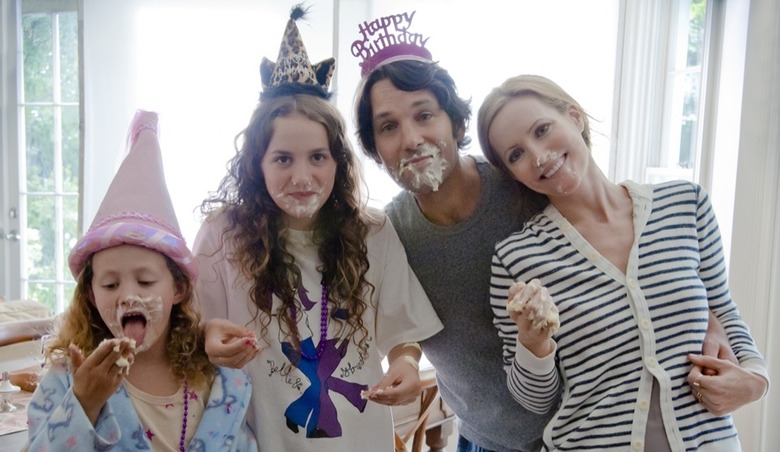 Note: This Is 40 opens everywhere December 21. We saw an early screening made possible by Film Independent at LACMA. 
For 132 minutes, This Is 40 is non-stop Judd Apatow. The jokes; the emotions; his wife; his kids; and maybe a bit too much of the writer/director's personality. It's a jackhammer of propulsive character action that shoves everything you need to know in your face every second. Which is both a blessing and a curse.
Almost instantly, the film demands we relate to Pete and Debbie (played by Paul Rudd, and Leslie Mann, married to Apatow in real life), an upper middle-class married couple. They're each celebrating their 40th birthday in the same week. Apatow doesn't care about setting these people up; we're just dropped into their lives as they struggle with the issues that arise when you hit the big four-oh.
Thankfully, Apatow knows how to make us laugh and This Is 40 does that on an almost too-constant basis. There are so many laughs you'll miss other laughs. Without a strong story to hold to outside of the loose concept of "turning forty," however, the movie tends to lose its way, then find it, then lose it, then find it again. This happens right up to – and during – the final credits. It's a mixed bag with lots to like but lots of problems too.
While Apatow's R-rated humor and flair for pop culture are very much part of This Is 40, almost everything else has changed from his last film, Funny People. That was a very narrative-driven, structured effort. This Is 40 feels very much the opposite of that. It gives a "fly on the wall" view of the characters. The audience is just hanging with Pete, Debbie and their kids as they go through their everyday lives. Part of this approach makes sense and tells us about the characters; other scenes feel forced and avoidable. All of it is, at least, anchored by the consistent laughs. Many jokes are derived from Maude and Iris Apatow, Judd and Mann's real life daughters, who play Pete and Debbie's daughters in the film. In particular, Maude's angsty performances as a budding teenager steals the movie.
Once we're acclimated to the daily lives of these characters, the cracks in their personalities begin to show. Debbie lies about her age, Pete lies about money, and they both pretend like everything is okay. Rudd and Mann are incredibly good in the film but they're burdened with Apatow's "tell, but don't show" approach to emotion. He places a premium on funny, so even as the film keeps making you laugh, it's difficult to ever be truly sympathetic towards the characters.
Things get a little more interesting when Pete and Debbie's fathers, played by Albert Brooks and John Lithgow, are introduced. Each does a wonderful job through their distinctive acting style but, again, it just feels a little too superficial. A little too obvious. Not to mention it's a little too easy not to care about Pete's financial worries when he can afford to lend his father $80,000, or not pay the mortgage on his massive home in southern California while driving a BMW as his daughters are on their iPads. Their upper-middle class materialism shouldn't matter, but it's so on display in the movie, it's hard for it not to factor in. Again, the emotions are there, but slightly disconnected.
Smaller supporting roles by Megan Fox, Melissa McCarthy and Chris O'Dowd are welcome additions, too. Conspicuous by their absence however, especially since Jason Segel and Charlyne Yi show up, are Rudd and Mann's Knocked Up co-stars Katherine Heigl and Seth Rogen. Wouldn't Debbie's sister show up to her brother-in-law's 40th birthday party? I'd imagine Apatow felt introducing two big stars in the third act could have potentially been a huge distraction, but being as this is so related to Knocked Up, I was a tad let down.
This Is 40 is filled with laughs and lots to like. It tells us that being 40 isn't bad and puts the power of family on display. Unfortunately, it does so with an in-your-face, indulgent confidence that never quite connects the way it should./Film rating: 6 out of 10