'G.I. Joe Retaliation' International Trailer #2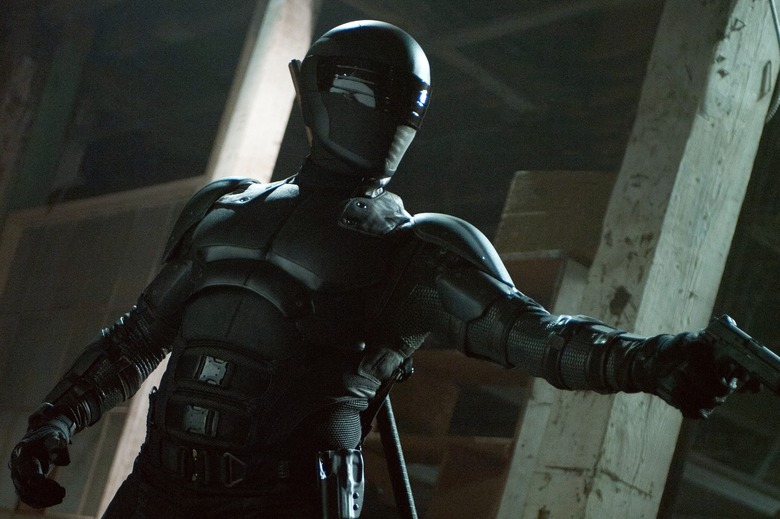 In an alternate timeline where Jon M. Chu's G.I. Joe Retaliation wasn't delayed to get a 3D overhaul, it would probably already be on Blu-ray. As it stands, though, the director is still working on making the conversion worth the wait. Audiences are about five months out from finally seeing some fulfillment of the action-packed promise we got when the first trailer was released in April.
A new edit of that original trailer has recently come online and while it has the exact same opening, and many of the exact same shots later on, there's enough new stuff in there to warrant a look from any G.I. Joe fans rabidly awaiting the film.
G.I. Joe Retaliation opens March 29, 2013 and stars Dwayne Johnson, Channing Tatum, Bruce Willis, Adrianne Palicki, D.J. Cotrona, Byung-hun Lee, Ray Park, RZA, Joseph Mazzello, Elodie Yung, and Walton Goggins. Check out some new footage below.
I hadn't rewatched the original trailer since April and I have to say, the footage Chu shot and story both look incredibly promising. I love that The Rock is the center of the action here (still no hint of Channing Tatum's fate in this trailer) and though this new trailer does have a lot of the same footage, that footage is damn cool.
We've got five months until release but I'd expect a new trailer and marketing campaign to gear up sooner rather than later. What do you think of this international trailer?
A follow-up to the 2009 release of G.I. JOE: RISE OF THE COBRA, which grossed over $300M worldwide, Paramount Pictures, MGM and Skydance Productions, in association with HASBRO and di Bonaventura Pictures, commences production on G.I. JOE: RETALIATION. In this sequel, the G.I. Joes are not only fighting their mortal enemy Cobra; they are forced to contend with threats from within the government that jeopardize their very existence. The film stars D.J. Cotrona, Byung-hun Lee, Ray Park, Adrianne Palicki, Jonathan Pryce, RZA, Ray Stevenson, Channing Tatum with Bruce Willis and Dwayne Johnson. Directed by Jon M. Chu, and produced by Lorenzo di Bonaventura and Brian Goldner, from a screenplay by Rhett Reese & Paul Wernick based on Hasbro's G.I. Joe(R) characters