'Despicable Me 2' Trailer: Minions Get Dressed Up, Creeped Out On Halloween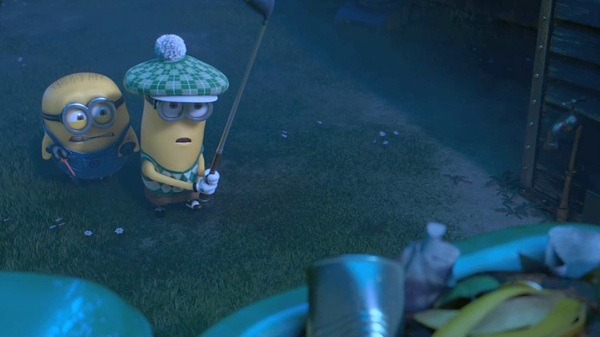 Last seen delivering an entertainingly absurd a cappella rendition of "Barbara Ann," the minions are back in a second trailer for Despicable Me 2. And appropriately for the holiday, it's a spooky one. Someone, or something, seems intent on picking off the cute little creatures one by one, presumably for some nefarious purpose. Said entity seems somewhat less interested, however, in alley cats.
Gru (voiced by Steve Carell) hardly makes an appearance, and we don't get to see any of the villain (voiced by Al Pacino) either, but the paranormal happenings could be a hint as to the direction the story will go when the animated sequel hits next year. Watch it after the jump.
Who can blame the alien (or whatever) for nabbing these minions? They're so adorable. I'd like to snatch a few and keep them as pets myself.
Gru may be the star of the show, but Universal definitely gets that it's these yellow blobs we can't get enough of. So much so that the minions are getting their own spin-off feature. If this trailer — which functions almost as a short film — is any indication, they're more than up to the task.
Also featuring the voices of Kristen Wiig, Miranda Cosgrove, Russell Brand, Steve Coogan, and Ken Jeong, Despicable Me 2 opens July 3, 2013. Pierre Coffin and Chris Renaud return to direct, from a script by Ken Daurio and Cinco Paul.
Synopsis:
Universal Pictures and Illumination Entertainment's worldwide blockbuster, Despicable Me, delighted audiences around the globe in 2010, grossing more than $540 million and becoming the 10th-biggest animated motion picture in U.S. history. In Summer 2013, get ready for more minion madness in Despicable Me 2. Chris Meledandri and his acclaimed filmmaking team create an all-new comedy animated adventure featuring the return of Gru (Steve Carell), the girls, the unpredictably hilarious minions...and a host of new and outrageously funny characters.