Remake Bits: 'RoboCop', 'Red Dawn', 'The Little Rascals'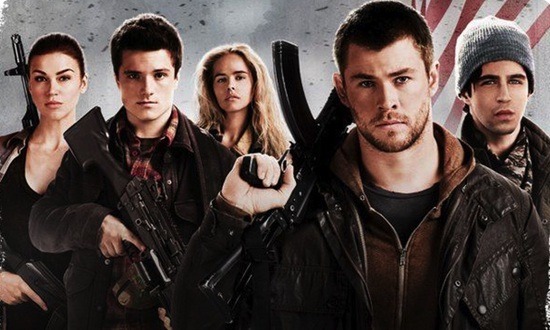 Having weathered MGM's financial woes and some last-minute digital revamping to avoid pissing off the Chinese, the Red Dawn remake is finally ready to hit theaters next month. A first trailer hit a couple of months ago, and now the first TV spot has arrived to remind us of the absurdity we can expect. Watch the video after the jump, then stick around for more photos from RoboCop and a casting update on a new Little Rascals.
Well, it doesn't look any sillier than the last trailer did. And whoever cut it together was smart enough to highlight what might be the film's biggest asset — its high-profile cast, most of whom were considerably less famous when the film was shot a few years ago. We've got Peeta, Thor (a.k.a. Gale's big brother), and almost-Wonder Woman crammed in there, among others. Red Dawn opens November 21. [Bleeding Cool]
We've already seen RoboCop's suit and bike a few times, but the latest batch of set photos might be the closest, clearest glimpse we've had yet at the new film's gear. Close enough to catch all the little details, like the Omni Corp logo on the cyborg cop's chest, even. Joel Kinnaman's looking sharp, if a little Batman-y.
RoboCop has mostly been filming in a part of Toronto dressed up to look like Detroit, but now it's headed to Motor City for real. The production received an incentive of almost $300k on $1 million in projected in-state spending from the Michigan Film Office, and will now shoot some exterior shots there. The Jose Padilha-directed remake opens February 7, 2014. [Movie Web]
Universal Home Entertainment is cobbling together a new Little Rascals for a new era. Kid star Jet Jurgensmeyer has just become the latest addition to the cast, joining Toddlers and Tiarars' Eden Wood and Drop Dead Diva's Lex Medlin. The story revolves around a scrappy gang of misfit children and their adopted grandmother (Doris Roberts). When her establishment is in danger of getting bought out by millionaire Big Ray Kaye (Greg Germann), the kids try to help her by raising money. Among their misbegotten schemes are a TV talent show, where they face stiff competition for the cash prize.
Jurgensmeyer will play Spanky, the self-appointed leader of the group. The young actor has been in the business for a few years already, making his debut in 2010's Redemption Road, and will soon be seen in Atom Egoyan's Devil's Knot. The Little Rascals is being directed by Alex Zamm, whose credits include a lot of straight-to-video family comedies with "2" in the title: Inspector Gadget 2, Beverly Hills Chihuahua 2, Tooth Fairy 2. [THR]