Russell Brand In Talks For Werner Herzog's 'Vernon God Little' [Updated]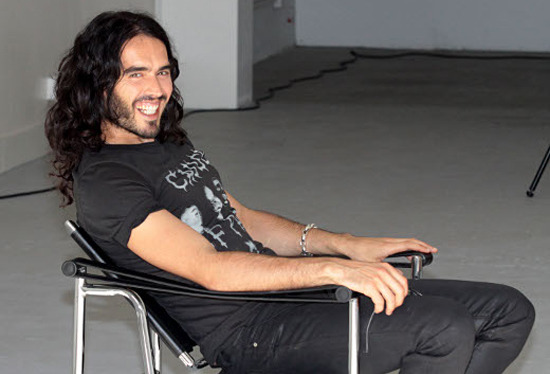 Werner Herzog is currently out in the desert for his Gertrude Bell biopic Queen of the Desert, but soon he'll focus on some arid Americana. His next film is slated to be Vernon God Little, based on the novel by DBC Pierre that won the Booker Prize after its 2003 publication. The novel is set in a small Texas border town, where a high school student shoots six fellow students before taking his own life.
Now Russell Brand, Sasha Pieterse of Pretty Little Liars, and young actor Austin Abrams (The InBetweeners) are in talks for major roles in the film.
Update: Mike Tyson and Pamela Anderson also have roles. If your lifelong dream is the same as mine (to see Herzog direct Pamela Anderson) then this movie just became a must-see.The Wrap has the report, and says that the film is expected to be "a satirical black comedy that comments on America's obsession with both fame and violence." Herzog has been developing the film since late 2012, from a script by Andrew Birkin. 
The key character is Vernon Little, the best (and only) friend of the shooter. Vernon witnesses the violence, and is later viewed as a suspect. He'll be played by Abrams. Pieterse is in talks to play the girl of Vernon's dreams, while Brand would be "a charming by manipulative reporter" who prioritizes the story over all else.
Update: THR adds that Mike Tyson will play an axe murderer, and Pamela Anderson is in the film as well.
The memorable portrait of America is seen through the eyes of a wry, young, protagonist. Fifteen-year-old Vernon narrates the story with a cynical twang and a four-letter barb for each of his townsfolk, a medley of characters. With a plot involving a school shooting and death-row reality TV shows, Pierre's effortless prose and dialogue combine to form a novel of postmodern gamesmanship. Hailed by the critics and lauded by readers for its riotously funny and scathing portrayal of America in an age of trial by media, materialism, and violence, Vernon God Little was an international sensation when it was first published in 2003 and awarded the prestigious Man Booker Prize.