Sequel Bits: 'The Hobbit', 'Bond 24', 'The Fast And The Furious 6', 'Red 2', 'The Man With The Iron Fists 2', 'The Best Exotic Marigold Hotel 2'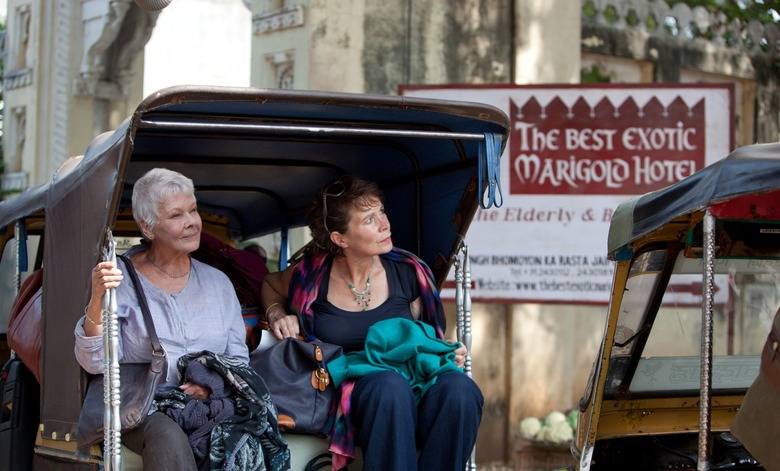 Old people begin and end today's Sequel Bits, which include updates on Red 2 and The Best Exotic Marigold Hotel 2. After the jump:
The Best Exotic Marigold Hotel is getting sequelized (as The Second-Best Exotic Marigold Hotel?)
Eli Roth is interested in The Man With the Iron Fists 2
Producer Gregg Wilson chats about the status of Bond 24
Ian McKellen details his decision to return for The Hobbit
Look at two more photos from The Fast and the Furious 6
See new pics from the London-as-Moscow set of Red 2
Screenwriter Ol Parker (who also wrote the first movie) is due to turn in a sequel treatment in the next few weeks. The project is still in the early stages, but insiders report that all of the original leads want to return. While the article doesn't name specific stars, Judi Dench, Maggie Smith, Bill Nighy, Tom Wilkinson, and Dev Patel comprised the principal cast of the first film. [Vulture]
RZA's The Man With the Iron Fists is still a few days away from the theaters, but producer Eli Roth is already thinking about a sequel:
RZA and I talked about continuing the story while we were shooting it. We really wanted to write the foundation of something that could continue if we decided to. It was such a great fun, creative collaboration and obviously it depends on how the public likes it, but it is something we'd love to continue.
Of course, whether those grand plans actually come to pass depends heavily on how the first film does when it opens this Friday, November 2. [We Got This Covered]
James Bond producer Gregg Wilson recently sat down with a Swedish site to discuss, among other things, the future of the Bond franchise. It's already been confirmed that Sony has hired Skyfall co-writer John Logan to pen the next two films, with the first one tentatively due out in fall 2014. Wilson spoke in vague terms about where the series might take the character next (translated from Swedish):
We want to put Bond in situations that feel interesting and who can develop Daniel Craig as an actor. It's what makes us excited when we take up the story. We need to have a good core of the story and it must be clear from the beginning. It does not work to add it to the end.
Wilson also shot down rumors that Benedict Cumberbatch had been tapped to play 007's next antagonist, in no uncertain terms:
I can confirm that none other than Daniel Craig has got a role in "Bond 24". I have not initiated any discussions with Cumberbatch.
I wouldn't object to Cumberbatch signing on, but after Skyfall I've got faith in whatever the producers want to do. Visit Moviezine for more.
It's all but impossible to imagine anyone but Ian McKellen playing Gandalf in Peter Jackson's The Hobbit trilogy, but the actor's initial ambivalence over reprising the role is well known. THR quoted the star talking about it earlier this month, and now McKellen's going into even further detail on his personal website. The reasoning isn't really that different from what we've heard before. Still, it's interesting to hear it from his own mouth. Or fingers, I guess, since he typed it.
Ultimately, the decision came down to the simple realization that no one else could really be Gandalf:
What clinched it and made up my mind was the advice of a wise friend: "Ian, all those fans of the LOTR aren't going to understand or care about your doubts. They just want to see you back as Gandalf." And then I realised what I'd known all along, that I couldn't bear to think of another actor donning the pointy hat and grey robes.
Head to McKellen.com for more. The Hobbit: An Unexpected Journey hits theaters December 14.
Over on Facebook (via Collider), Vin Diesel has shared two more snapshots of himself on the set of The Fast and the Furious 6. One shows him walking in front of a sweet ride like a tough guy, while the other seems to show him tenderly embracing someone. Or maybe they're wrestling. That also seems possible.
Also starring Paul Walker, Dwayne Johnson, Jordana Brewster, Michelle Rodriguez, and Luke Evans, The Fast and the Furious 6 opens May 24.
Finally, we've got a small handful of fresh photos from Red 2, which is currently shooting in London (which doubles as Moscow). Click through the gallery to see Bruce Willis, Mary-Louise Parker, Anthony Hopkins, and John Malkovich hanging out in front of green screens.
Red 2 will hit theaters August 2, 2013. [Coming Soon]