TV Bits: 'Up All Night', 'Arrested Development, 'Hell On Wheels', Dwight Schrute, Dan Harmon, Chloë Sevigny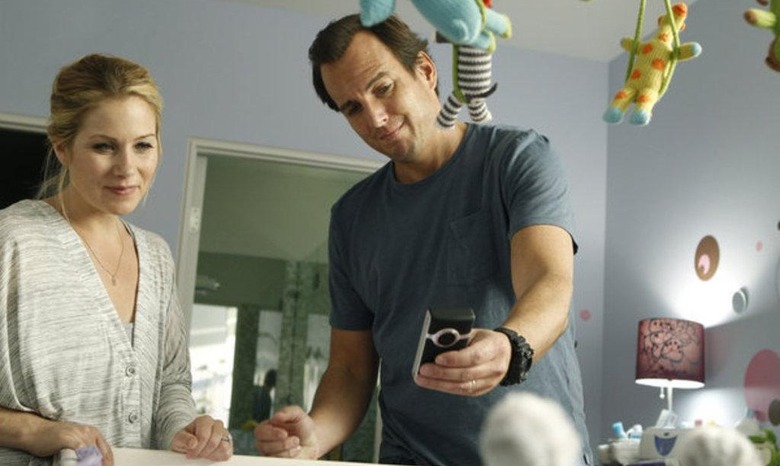 NBC's shaking things up, while its former employee Dan Harmon's bouncing back on Adult Swim. After the jump:
NBC doesn't want that Dwight Schrute spinoff The Farm after all
NBC decides to turn Up All Night into a multi-camera sitcom
Adult Swim orders Dan Harmon's new animated comedy to series
Chloë Sevigny signs up for A&E crime drama pilot Those Who Kill
See Conan O'Brien hanging around the Arrested Development set
Wheel of Fortune and Jeopardy! are renewed through 2015-16
ABC gives full season orders to Scandal and The Neighbors
AMC decides to renew Hell on Wheels for a third season
Farm Update: NBC has passed on moving forward with The Farm TV show. Had a blast making the pilot – onwards & upwards!

— RainnWilson (@rainnwilson) October 29, 2012
We will, however, get to see the failed pilot eventually — according to an NBC insider, the network plans to air it as a standalone episode of The Office in early 2013. The workplace sitcom concludes its ninth and final season in May. [TV Line]
Meanwhile, the network is also working on retooling another of its comedy series, Up All Night. The show is undergoing a dramatic overhaul, from a single-camera series to a multi-camera sitcom filmed in front of a live studio audience.
The series will go on a three-month hiatus after the eleventh episode of its second season airs next week. When it returns for episodes twelve through sixteen in April, the show will be in its new format. Now the question is what'll take Up All Night's place in its Thursday 8:30 PM timeslot until next spring. Hmmm. Might we suggest finally bringing back Community, NBC? [Variety]
Speaking of Community: Ousted showrunner Dan Harmon's been busier than ever since he left the series this past spring, and next year we'll get to see one of the fruits of his labors. Adult Swim has picked up his animated series Rick & Morty to series, with ten half-hour episodes scheduled to debut in late 2013. The cartoon, which was in the works even before Harmon left Community, centers around a brilliant inventor and his considerably less brilliant grandson. [TV Line]
American Horror Story: Asylum and Big Love star Chloë Sevigny has booked another high-profile cable role, this time on A&E. The network has just tapped her for the female lead role of Catherine Jensen on Those Who Kill, a crime drama pilot based on a Danish series by Elsebeth Egholm. Sevigny's character is described as an "intelligent, fearless, strong and determined" detective who's recently been appointed to the Boston Police Department's Homicide Division. Joe Carnahan is set to direct the pilot. [Deadline]
We recently got word that Conan O'Brien would appear on the upcoming fourth season of Arrested Development, and now we have photographic proof that it's really happening. The late night host tweeted a photo of himself on the show's California set, which features him talking to fellow guest star Andy Richter as series lead Jason Bateman looks on in vague concern. At least we think it's Andy Richter. Remember, he plays five identical quintuplets on the show — only one of which is named "Andy Richter." The new season hits Netflix in spring 2013.
Here's the 1st official photo from the new Arrested Development on @Netflix. Spoiler alert: I'm an amazing actor: http://t.co/uaNpiFng

— Conan O'Brien (@ConanOBrien) October 29, 2012
[via Screen Crush]
Now let's get through a few quick renewals and pickups...
Wheel of Fortune and Jeopardy! have just been renewed through the 2015-2016 season. The former will be in its 33rd season by that point, with Pat Sajak and Vanna White still co-hosting, while Alex Trebek will remain on board through the series 32nd season of Jeopardy! that year. To be honest, it never occurred to me that these were actual shows that needed to be renewed — they've been on the air longer than I've been alive, so I guess I thought they'd remain on the air, with the same hosts intact, long after I was dead. [Deadline]
In comparison, Hell on Wheels' recent third season renewal seems downright insignificant. But of course, we're dealing with a differnet beast. AMC has renewed the railroad Western for a 10-episode third season which will air next year. The show's second season ended in early October with solid ratings. [TV Line]
Finally, ABC's given full-season pickups to two of its shows, the freshman sitcom The Neighbors and the sophomore drama Scandal. The Neighbors has proved the weakest part of the broadcast network's Wednesday night lineup, but ratings bumped up a bit last season. ABC's apparently pleased enough with it to order nine more episodes, giving the show a full 22-episode first season.
Scandal previously had a 13-episode second season order, but its solid ratings have convinced ABC to give it another nine episodes. Its second season will now consist of 22 episodes. The fate of several of ABC's new shows remain up in the air, including Last Resort, 666 Park Avenue, and Nashville. [EW]