'Quartet' Trailer: McGonagall And Dumbledore Make Beautiful Music In Dustin Hoffman's Directorial Debut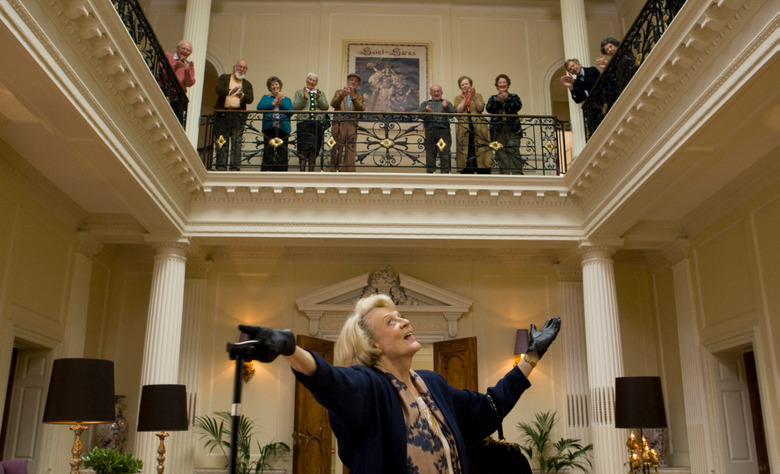 Proving it's never too late for fresh starts, Dustin Hoffman is embarking on a brand-new directing career at the ripe old age of 75. His first feature is Quartet, a gentle Brit comedy-drama set in a home for retired opera performers.
Billy Connolly, Pauline Collins, and Tom Courtenay plays a trio of longtime friends and colleagues enjoying their golden years together at the facility, only to be thrown off balance by the arrival of the former fourth member of their singing quartet — a famed diva played by Maggie Smith. Michael Gambon also stars, as an opera director. Watch the trailer after the jump.
[Yahoo!]
Hoffman's Quartet is not to be confused with Yaron Zilberman's A Late Quartet, also about a group of aging musicians — in that case, a string quartet comprised of Philip Seymour Hoffman, Catherine Keener, Christopher Walken, Mark Ivanir, and Imogen Poots.
This Quartet is based on a play by Ronald Harwood, and has been earning moderate but warm praise on the festival circuit. The film doesn't seem especially deep or edgy, and it's pretty easy to predict where things are headed just by looking at the trailer. But the cast promises some solid acting, at the very least. That, plus the sweetly funny tone, should make for some enjoyably crowd-pleasing holiday fare when it arrives in theaters December 28.
Synopsis:
Lifelong friends Wilf and Reggie, together with former colleague Cissy, are residents of Beecham House, a home for retired opera singers. Every year on Giuseppe Verdi's birthday, the residents unite to give a concert to raise funds for their home. But when Jean Horton, a former grande dame of the opera fallen on hard times, also Reggie's ex-wife and the fourth and most celebrated member of their former quartet, moves into the home to everyone's surprise, the plans for this year's concert start to unravel.
As old grudges threaten to undermine past glories and theatrical temperaments play havoc with the rehearsal schedule, it becomes apparent that having four of the finest singers in English operatic history under one roof offers no guarantee that the show will go on.