Jaime King And Jamie Chung Join 'Sin City: A Dame To Kill For;' Major Casting Still Underway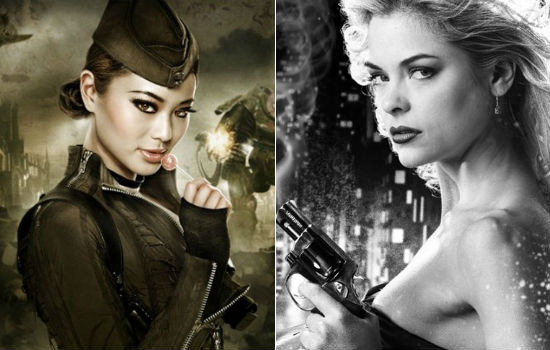 As soon as Robert Rodriguez finished filming Machete Kills, he jumped right into his next movie. That movie is Sin City 2, aka Sin City: A Dame To Kill For, which began filming on Monday with two actresses familiar with the genre. Jaime King is returning for the sequel, playing the sister of her character from the first movie, and Jamie Chung is playing the role Devon Aoki had in the 2005 original.
Rodriguez is co-directing once again with Frank Miller, who wrote the original comics and, once again, the movie will consist of multiple stories. However, unlike the original movie, one of the stories in the sequel is brand new and written specifically for the film. A Dame to Kill For is scheduled for release October 4, 2013. Read more after the jump.
The Hollywood Reporter broke the news of both actresses joining the cast, which already includes returning actors like Mickey Rourke, Jessica Alba and Rosario Dawson. Rourke's character, Marv, was killed in the original film but this story precedes that tragic fate.
Of note in the article, too, is the fact that Angelina Jolie, who was expected to play the major role of Ava, is not likely to appear. So that role is still being cast. Same goes for Dwight, originally played by Clive Owen. Owen was expected to return but apparently Dwight's story in Sin City 2 sees him get facial reconstruction so they will likely just recast the character.
With Sin City already locked into an October 2013 release date, it'll be interesting to see if Rodriguez has spread himself too thin. He's notorious for working quickly and quietly but two movies at the same time, even if it's all in the same place and one (Sin City) has a co-director, is pretty nuts. It's entirely possible, though, that Machete Kills is already edited and now just awaiting digital effects that he can approve while filming Sin City. (Rodriguez had a similar two-film thing going when he was making/overseeing Machete and Predators in 2009.)
Are you surprised that King is returning or that Chung was cast? Which film comes out first?