Tom Cruise Has Begun To Think About 'Mission: Impossible 5'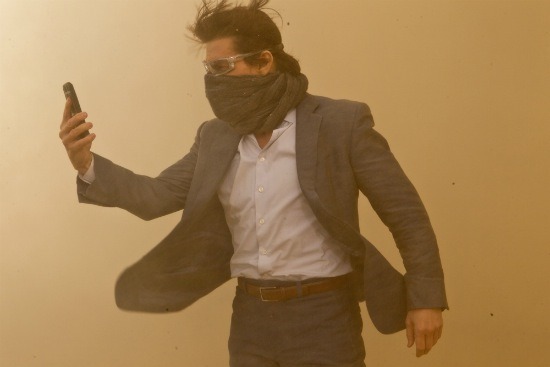 While opinions vary greatly on the first three Mission: Impossible films, almost everyone agrees on the fourth one. Mission: Impossible Ghost Protocol was by far the biggest international hit of the series and expertly continued the story of Ethan Hunt (Tom Cruise) as it also set up the franchise to continue down the road. Since its release, Cruise has been making films that appear to have a bit of aMission: Impossible vibe (Jack Reacher, Oblivion, All You Need Is Kill) but has yet to commit to another installment of the franchise.
In a new interview though, the star admitted the wheels have begun to turn for Mission: Impossible 5. While he's travelling the world making these other films, he's been constantly thinking about and considering different locations for a fifth Mission. Read his quotes after the jump.
The quotes come from an interview in the latest issue of Total Film. Here's Cruise when asked about Mission: Impossible 5:
We're already working on different images. Talking conceptually. I love travelling around promoting different movies because I'm always looking at different places, and I always walk around to see the city. I look at architecture, subways... coming up with different sequences.
He also said he originally took the franchise because of its future opportunities and doesn't necessarily think the fifth will be the last one:
I started Mission: Impossible hoping I could make many of them. It's a character that I can grow with. At that time it was the most expensive film in the history of Paramount Pictures, and the first film I was producing. It's been pretty exciting. I'll make a bunch of those. I'll make as many as people want to see... because they're very challenging, and so much fun to make.
While Paramount has confirmed that they're moving ahead with a fifth Mission: Impossible film, no screenwriters have been hired and Brad Bird, the director of Ghost Protocol, said he doesn't think he'll come back. Which fits with the franchise. With each of the past four films, a new director has taken on the responsibility in a manner vaguely similar to the James Bond series, and I'd expect that to continue.
But for now, Cruise and his team will collect ideas and situations and eventually farm those out to a writer. Don't expect much else until that happens. Who would you like to see direct Mission: Impossible 5.