Guess The Scott C. Great Showdown, Win A Book – Day 2: David's Favorite Movie Of All Time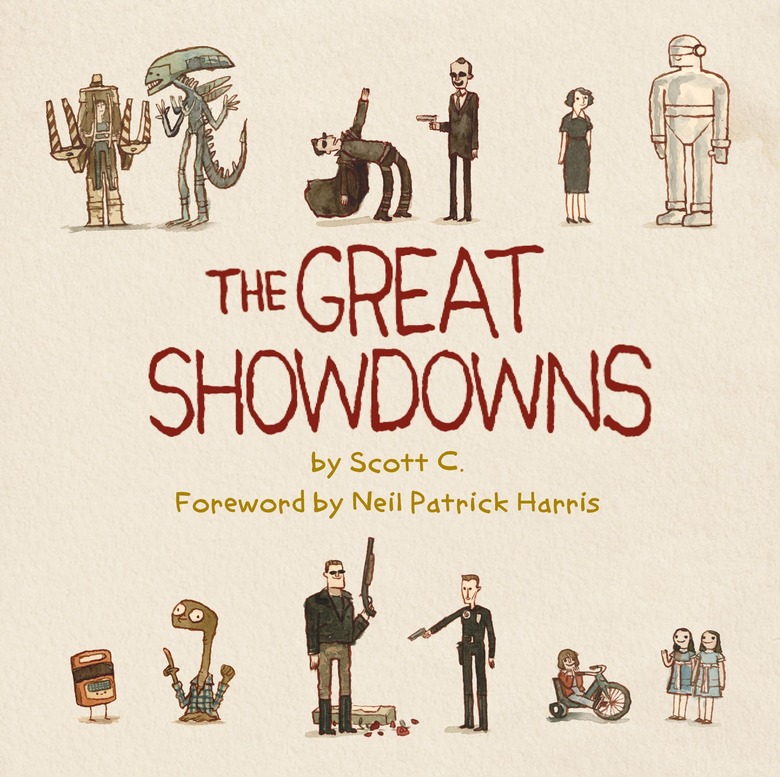 We may receive a commission on purchases made from links.
Note: The answer to yesterday's contest, Germain's favorite movie, was Swingers. The winners were Justin G of New York and Alexandra A of Vancouver.
All this week you have a chance to win one of 10 copies of Scott Campbell's latest book, The Great Showdowns. It's a collection of Campbell's distinctive, awesome art depicting some of the greatest conflicts in movie history. (As seen above.) We at /Film have been writing about Showdowns for years, most recently for Campbell's second full gallery show. So, to commemorate and give away the new book, we teamed up with Campbell to do something very special.
Each day this week, we're going to world premiere a brand new, never before seen showdown. Each showdown is based on the favorite movie of one of five /Film writers: David Chen, Russ Fischer, Angie Han and, of course, Peter Sciretta. (We already did mine.) You'll have one day to look at the showdown, read our explaination why it's our favorite movie of all time, and then e-mail in your guess. Each day, out of those who get it right, two will randomly be selected and sent a free copy of The Great Showdowns by Scott Campbell.
Sound good? Check out David's favorite movie of all time below and find out how to enter.
Here's the world premiere of Scott C's Showdown for ______, David's favorite movie of all time.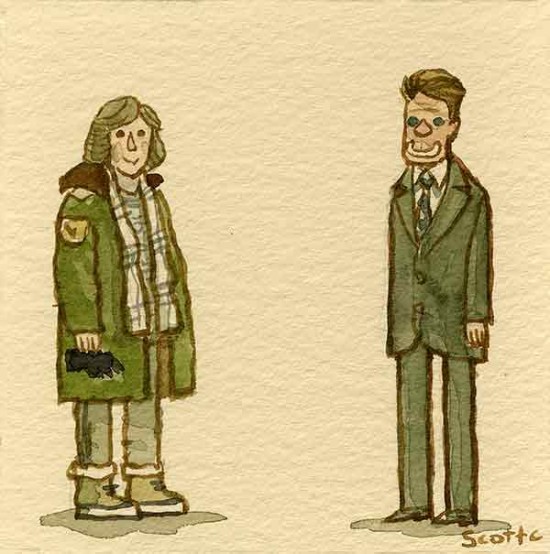 What movie is this showdown from? If you know, check out instructions below. For some clues, here's why this is David's favorite movie of all-time:
I think this film captures so much of what it means to be human: the oppressive greed, the eventual triumph of intellect over brutality, the unrelenting frustrations of everyday life (I can't remember when I've been so moved by a scene in which a man tries to clean ice off of his car). But it's the performance of this film's Oscar winner that is the anchor for this film. She creates a character so memorable in both mannerism and capability that she elevates the film from straight-up thriller to something far more transcendant.
So what's Dave's favorite movie of all time? E-mail the answer in the subject line to slashfilmcontest@gmail.com along with your name, address and – if you live in Canada – your phone number. Sorry, the contest is only open to US and Canadian residents. The contest ends at 11 p.m. PST tonight and winners will be contacted directly. If you don't include all the information and you get picked, another number gets selected.
If you don't win, keep checking back the rest of the week to guess our favorite movie and see some awesome new showdowns. Or, just head to Amazon and pick up a copy yourself. I highly recommend it.
NOTE: If you leave the answer in the comments, all you're doing is making it harder for yourself to win.