Another 'Bullet To The Head' Trailer Promises Middle-Of-The-Road Buddy Action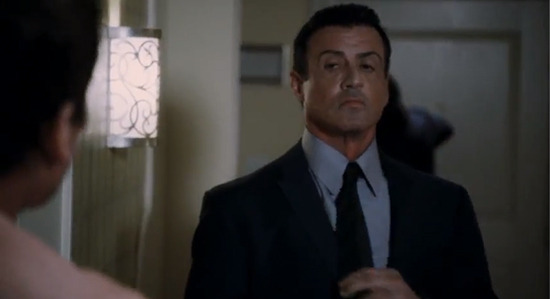 I want to like Bullet to the Head. I really do. It marks the return of Walter Hill, who has made films I love (producing Alien, and directing The Warriors, 48 Hours) and it features Sylvester Stallone in a tough but smartass action role, which is a zone in which he can be very comfortable. But this third trailer for the movie doesn't do anything to make the film's problems seem less pervasive.
The story features Stallone as a hitman who teams up with a cop from NYC (Sung Kang) to find and stop the guy (Jason Momoa) who killed the cop's partner and took Stallone's daughter (Sarah Shahi) hostage. The use of Saliva's woefully simple-minded song 'Badass' underscores the routine-looking action and good guy/bad guy buddy interaction between Sly and Kang. There could be something hidden here that the trailers aren't capturing, so check out the footage below and see if you can see a great action movie between the lines.
Bullet to the Head opens on February 1, 2013.
Sylvester Stallone stars as a New Orleans hitman who forms an alliance with a New York City cop to bring down the killer of their respective partners in the action thriller, Bullet to the Head, from veteran director Walter Hill.