Clip From Michael Haneke's Cannes Winner 'Amour' Embodies The Beautiful Essence Of Filmmaking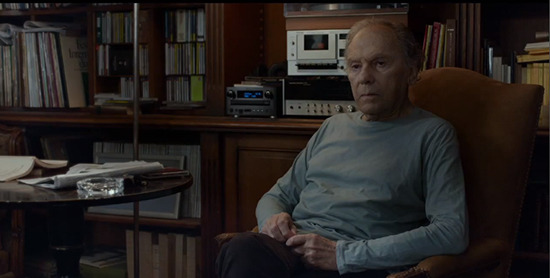 At a time when even the most basic films feature once-impossible and now all but invisible digital effects and editing, it's easy to look past the fact that the power of cinema lies in the simplest things: image and sound, and the way that two or three small elements can be combined to create a complex and very powerful effect.
One of the best moments in the trailer for Michael Haneke's new film Amour was a combination of an edit between two simple shots and an action in the latter shot. The edit cuts across time and through memory, and the action — a simple, mundane little thing — turns the construction into a montage that communicates deep, inescapable sadness.
Two clips of Amour are now online, and one highlights that moment. It's one that should be studied by anyone interested in the construction of a film, because it is a lesson in pure cinematic storytelling delivered in one minute. If someone asked me what movies are, as a medium, I might point towards this clip. 
I don't think I even need to set up a story outline for this clip. Two shots tells you everything.
And another clip:
Sony Pictures Classics has set a December 19 release for Amour, which depicts the personal and familial disintegration experienced by a woman after a stroke. (Seeming almost as a companion to Cassavetes' A Woman Under the Influence, and if the clips and trailer are any indication, possibly just as powerful.) [via The Film Stage]