Cool Stuff: The Full Mondo Artwork For The 'Tarantino XX' Box Set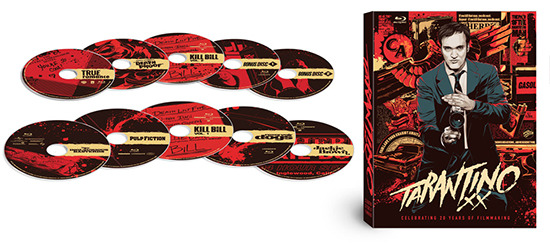 We may receive a commission on purchases made from links.
All week, sites like ours have been debuting artist Ken Taylor's gorgeous art for the upcoming Tarantino XX Blu-ray box set, which will be released on November 20. It'll feature Blu-rays of Tarantino's debut, Reservoir Dogs, as well as Pulp Fiction, Jackie Brown, True Romance (scripted by Tarantino, but directed by Tony Scott), the two Kill Bill films, Death Proof, Inglourious Basterds, and new supplemental material.
That's the cover above and now you can see the full art from the inside. It's beautiful. Check it out below.
Here's the full artwork for the box set by Ken Taylor, which was curated by Mondo. Click to enlarge.

You can order the box set here. Are you going to pick it up?