TV Bits: 'How I Met Your Mother', 'Arrested Development', 'Bored To Death', 'Mad Men', 'The Carrie Diaries', Steve Carell, Greg Daniels, Zach Braff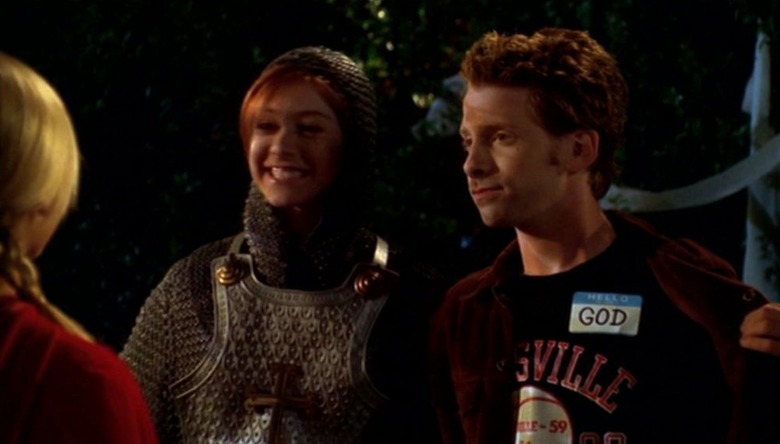 Today's TV Bits is all great news if you like Garden State, or just mostly great news if you don't. After the jump:
Oz and Willow will reunite on CBS' How I Met Your Mother
Arrested Development adds Andy Richter and Conan O'Brien
Zach Braff develops the Garden State-esque Garage Bar for ABC
Steve Carell produces a sitcom for Daily Show's Jason Jones
Greg Daniels and Kevin from The Office team for ABC comedy
Ted Danson spills plot details on the Bored to Death movie
Check out photos of Mad Men's Don and Megan chilling in Hawaii
See a trailer for The Carrie Diaries, the CW's Sex and the City prequel
So, no, there probably won't be any tender romantic moments between the erstwhile werewolf and his witch ex-girlfriend. But we'll take it. Green is just the latest Whedon alum to make his way to the CBS sitcom, following Amy Acker, Tom Lenk, Morena Baccarin, Harry Groener, Danny Strong, and Alexis Denisof (who's also Hannigan's real-life husband). [TV Line]
Andy Richter is headed back to Arrested Development, along with what seems like every other guest star the series has ever had. But he's bringing along an old friend as well. Conan O'Brien is set to make an appearance on the upcoming fourth season, which is due to hit Netflix in the spring. The nature of his role is unclear, but seeing as Richter plays himself (and his four identical quintuplet brothers), it seems possible that O'Brien will play himself as well. [Screen Crush]
If your biggest complaint about HBO's Entourage was that it just wasn't Garden State-y enough, you're in luck. ABC has just purchased Garage Bar, a single-camera comedy to be written, directed, and executive produced by Zach Braff. Described as "a workplace idea with the heart and humor of Braff's 2004 feature," the show centers around a group of friends dealing with the challenges of fame when one of them becomes a huge pop star. [Deadline]
Steve Carell left behind Comedy Central's The Daily Show to star in a primetime sitcom, and now he's helping one of his fellow correspondents do the same. Carell, Chris Weitz, and Paul Weitz are exeuctive producing an untitled comedy for Fox that has The Daily Show's Jason Jones in the lead role.
Jones will play a single Manhattanite forced to take care of his sister's two kids when she gets called away to active duty. The new show isn't Jones' first attempt to switch into primetime comedy. Jones starred in CBS' pilot The Assistants in 2011, and ABC's How to Be a Better American in 2010, but neither took off. [Deadline]
Speaking of former Office alums: The NBC sitcom may be sputtering out after this season, but its cast members are still going strong. Mindy Kaling already has her own show on Fox, Rainn Wilson is trying to get a Dwight spinoff under way, Craig Robinson is headed to a new NBC pilot, Angela Kinsey just sold a comedy to Fox... and now Brian Baumgartner, who plays Kevin, is about to get a new sitcom as well.
Baumgartner will team up with The Office creator Greg Daniels for the untitled single-camera half-hour, which has landed at ABC. At its center is Norman (Baumgartner), a mid-level airline exec "who fights to experience winning again. At anything." Do you think that means, like, literal, physical fighting? Is this essentially a TV version of Here Comes the Boom? [Deadline]
Ted Danson was the first to alert press about the possibility of a Bored to Death movie sequel over the summer, and it seems plans are going well so far. Speaking at a recent event, Danson revealed that the deal was "about to be signed" and that creator Jonathan Ames was working on the script "as we speak." As for what exactly that script might entail:
I think Jason becomes a policeman, which means, for him, a traffic cop. He'll have a traffic-cop go-kart kind of thing. And I think Ray and I move in together, both of us without relationships. And then: hijinks. All hell breaks loose. That's about as much as I know.
Yes, please. For its part, HBO will say only, "We confirmed a while back that we were in talks about the film but we don't discuss projects in development." Good enough for now!
Mad Men showrunner Matthew Weiner has a notorious reputation for secrecy, but it seems even he can't plug all leaks. Word got around recently that Jon Hamm and Jessica Pare, who play Don and Megan Draper, had been spotted shooting scenes in Hawaii. Photos from said shoot have just hit the web, showing the couple at what appears to be a beachside wedding:
So Don's idea of beach reading is Dante's Inferno. What do you suppose that means? Mad Men returns for Season 6 next year. [Daily Mail]
Sarah Jessica Parker may be done with her stint as Carrie Bradshaw, but AnnaSophia Robb is just starting hers. The Soul Surfer actress is headed to The CW this January for The Carrie Diaries, a Sex and the City prequel series that picks up with the budding writer as a high schooler in the '80s. Watch the trailer below:
Wasn't that just what you thought it was going to be? [The Playlist]