First Look: Mads Mikkelsen As Hannibal Lecter And Hugh Dancy As Will Graham In Bryan Fuller's 'Hannibal'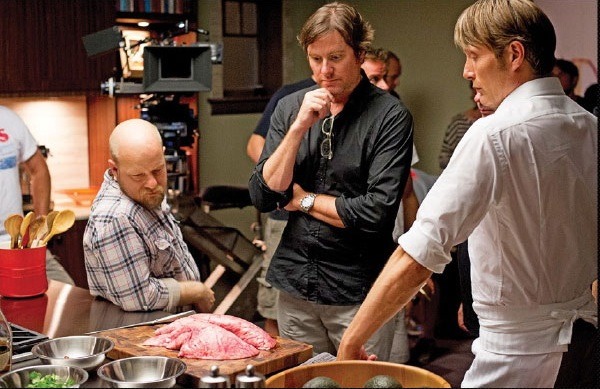 Anthony Hopkins may be the most famous Hannibal Lecter of them all, but he's far from the only one. And in the months to come, we'll be getting yet another. Mads Mikkelsen will be the latest to tackle pop culture's most beloved cannibal in NBC's Hannibal, from Dead Like Me and Pushing Daisies creator Bryan Fuller.
So how does he stack up? See for yourself in a new batch of photos from the set, which also feature Hugh Dancy as FBI agent Will Graham, and Laurence Fishburne as his boss Jack Crawford.
No surprise that Mikkelsen seems to take to the nasty role with relish. The actor is best known in the U.S. as baddie Le Chiffre from Casino Royale; sadly this project means he can't portray another high-profile villain in next year's Thor 2. Dancy and Fishburne's roles aren't quite as showy, but I suppose they look good too.
It's tough to tell just by glancing at these snapshots what the series will actually look like when it hits our screens. From here, however, it seems Fuller's toned down some of the eye-popping visual sense that made his earlier shows like Pushing Daisies such a treat to look at. Probably for the best, since an overly bright and colorful aesthetic wouldn't suit this story too well.
Fuller's Hannibal serves as a sort of prequel to The Silence of the Lambs, following Graham and Lecter in the early days of their relationship — back before the former discovered the latter to be a man-eating serial killer. Fuller has previously described his series as a "love story" between the two men: "As Hannibal has said [to Graham] in a couple of the movies, 'You're a lot more like me than you realize. We'll get to the bottom of exactly what that means over the course of the first two seasons." The series is expected to debut on NBC in midseason.