First TV Spot For 'The Hobbit: An Unexpected Journey' Highlights Big Action And 'Lord Of The Rings' Connection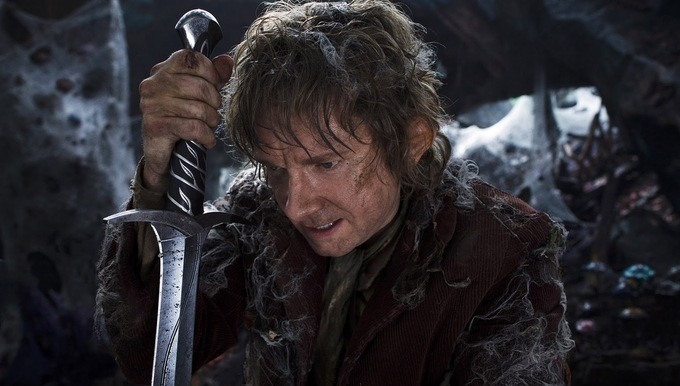 A full-length trailer gets somewhere between two and two and a half minutes to make its case, but a typical TV spot only runs about thirty seconds. Best to just to cut to the chase, then.
The new TV ad for Peter Jackson's The Hobbit: An Unexpected Journey barely gets to establish who Bilbo Baggins (Martin Freeman) is or why Gandalf (Ian McKellen) is encouraging him to venture out into the wide world before the poor fellow is thrown into the midst of an action-packed fantasy adventure. Naturally, the promo still finds time to play up the film's connection to the Lord of the Rings trilogy along the way. Watch it after the jump.
[via First Showing]
TV spots like these have a broader reach than the trailers we've been poring over, so this is an interesting glimpse at what Warner Bros. thinks will sell to wider audiences. Emphasizing the story's status as a Lord of the Rings prequel via familiar faces like Gandalf and Gollum (Andy Serkis) seems like a smart move, as does offering a heaping dose of gorgeously rendered action. But there are bits of humor and the nervous Bilbo to set The Hobbit apart from the previous trilogy as well. The dwarves kinda get the shaft, but from a marketing standpoint I suppose that makes sense.
The Hobbit: An Unexpected Journey lands in theaters December 14. Advance tickets go on sale November 7.
The three films tell a continuous story set in Middle-earth 60 years before "The Lord of the Rings," which Jackson and his filmmaking team brought to the big screen in the blockbuster trilogy that culminated with the Oscar®-winning "The Lord of the Rings: The Return of the King."
The adventure follows the journey of title character Bilbo Baggins, who is swept into an epic quest to reclaim the lost Dwarf Kingdom of Erebor from the fearsome dragon Smaug. Approached out of the blue by the wizard Gandalf the Grey, Bilbo finds himself joining a company of thirteen dwarves led by the legendary warrior, Thorin Oakenshield. Their journey will take them into the Wild; through treacherous lands swarming with Goblins and Orcs, deadly Wargs and Sorcerers.
Although their goal lies to the East and the wastelands of the Lonely Mountain, first they must escape the goblin tunnels, where Bilbo meets the creature that will change his life forever...Gollum.
Here, alone with Gollum, on the shores of an underground lake, the unassuming Bilbo Baggins not only discovers depths of ingenuity and courage that surprise even him, he also gains possession of Gollum's "precious" ring that holds unexpected and useful qualities... A simple, gold ring that is tied to the fate of all Middle-earth in ways Bilbo cannot begin to know.