'Safe Haven' Trailer: Julianne Hough And Josh Duhamel Weep, Sigh, And Swoon For Nicholas Sparks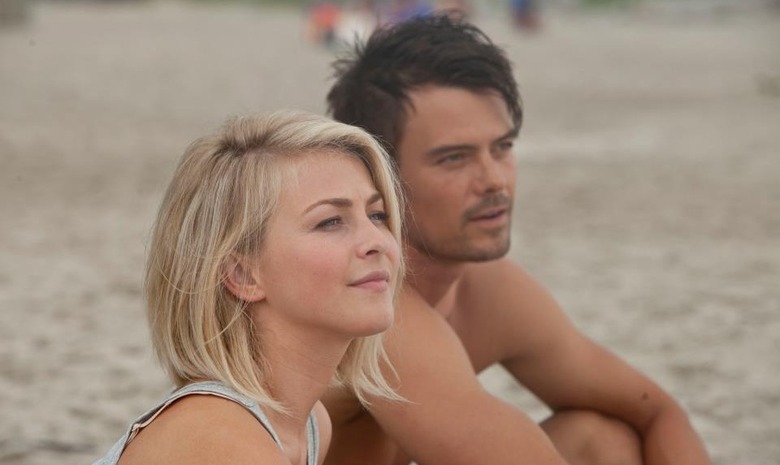 The Nicholas Sparks drama is practically a subgenre unto itself at this point, with its own set of tropes and traditions. Lasse Hallström's Safe Haven sticks mostly with the formula, featuring a blandly attractive pair (Josh Duhamel and Julianne Hough as Alex and Katie),a picturesque waterside setting, and of course, a grand, swooning romance threatened by a big, tragic secret.
But Safe Haven veers slightly by introducing what appears to be a thriller element to the tale. Katie's clearly on the run from something, though the trailer tries not to give away just what she's hiding from. Also, no one seems to be dying of cancer, or really even sick at all. That counts as a change of pace, right? Unless that's what Sparks wants us to think, and that's the big twist... In any case, watch the video after the jump.
[via Facebook]
Either you like Sparks' style of weepy romance or you don't, and either way Safe Haven doesn't look likely to change your mind. My main takeaways from this trailer are 1) wow, that is some really pretty scenery, and 2) holy crap, how small is Hough? I can't even tell if the pair have any chemistry, because I'm too distracted by the fact that Duhamel looks like he's talking to a small child in their scenes together.
Also starring Cobie Smulders and David Lyons, Safe Haven opens February 8 — just in time to make it a perfectly stereotypical Valentine's date night choice.
Synopsis:
An affirming and suspenseful story about a young woman's struggle to love again, Safe Haven is based on the novel from Nicholas Sparks, the best-selling author behind the hit films The Notebook and Dear John. When a mysterious young woman arrives in a small North Carolina town, her reluctance to join the tight knit community raises questions about her past. Slowly, she begins putting down roots, and gains the courage to start a relationship with Alex, a widowed store owner with two young children. But dark secrets intrude on her new life with such terror that she is forced to rediscover the meaning of sacrifice and rely on the power of love in this deeply moving romantic thriller.