Screenwriter Offers 'Wanted 2' Update: Wesley Will Train New Female Recruit, Angelina Jolie's Fox Won't Return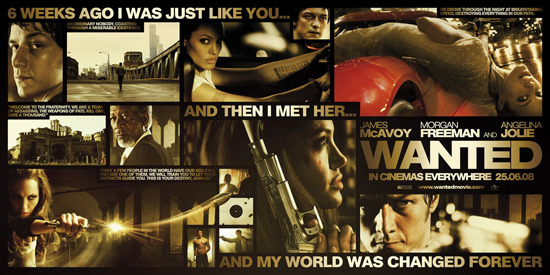 Universal's been taking their good sweet time on the sequel to 2008's Wanted, but fans needn't fret just yet. The studio (re)hired Derek Haas and Michael Brandt to write the script last year, and the former now says they're readying the second draft.
As for big changes from the last film, Haas reveals the unsurprising news that Angelina Jolie will not reprise her role as Fox. Instead, Wesley (James McAvoy) will be hanging out with a new female pal. Read more after the jump.
After the pair left, the studio went through a few other writers, including Pooh's Heffalump Movie scribe Evan Spiliotopoulos. But in 2011, the project circled back to the duo: "We got that call that you always love as a screenwriter. 'Can you guys please come back?' We loved the world. That experience was great. We said, 'Well here's what we want to do with the sequel.' And they said, 'Okay.'"
Plot details were very vague when we last checked in, but Haas had a little more info to offer this time:
It's 'Where is Wesley four years after the events of the first movie?' The only thing I can tell you is that Wesley is now, four years later, recruiting a young woman who is in his situation in the first movie. She's got a shitty life. He's sort of in the Fox role. This new girl is brought into the world.
That seems to mesh with earlier reports that Wesley would be dealing with "a young, ass-kicking assassin in the Fraternity," once rumored to be played by Kristen Stewart. It seems unlikely that the Twilight star would sign on at this point, but there's no shortage of up-and-coming actresses who could fit into that role.
As for the first Wanted's high-profile female star, Haas explained why he and Brandt have no plans to bring Jolie's character back. (Spoilers for Wanted ahead.) "Angelina Jolie gets shot in the head and everyone's like, 'Oh, are you going to bring back Fox?' I said, 'Did you see the bullet go into her head?' And they say, 'Oh, she can take one of those milk baths!' We never wanted to do that movie," he said.
I didn't love Wanted enough that I'm dying to see another one, but Wesley becoming the new Fox is an idea that makes sense. Now the question is when Wanted 2 will actually enter production. Haas, Brandt, and Bekmambetov seem eager to get the ball rolling, but McAvoy is tied up with X-Men: Days of Future Past for the near future.