'Reservoir Dogs' And 'Pulp Fiction' Going Back To Theaters For One Night In December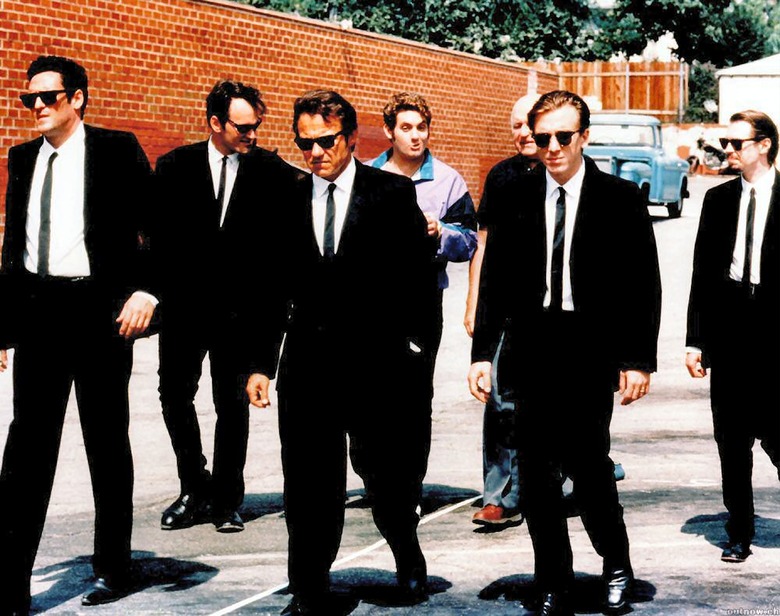 A few companies are trying to get in on the action with respect to celebrating the twentieth anniversary of Quentin Tarantino's feature debut Reservoir Dogs. There's a 20th anniversary screening of the film tonight in LA, and broad audiences will get a good anniversary gift from the director when his Django Unchained is released on Christmas Day. (See a new trailer for that film here.)
But for those who've never had a chance to see his first two films, Reservoir Dogs and Pulp Fiction, on the big screen, Miramax, NCM Fathom and IGN are teaming up to offer a one-night only opportunity to catch up. On December 4 and 6, the films will screen along with " a special feature showcasing Tarantino's 20-year career and a selection of hand-picked movie trailers from films that inspired him as a filmmaker."
These are digital projections rather than 35mm projections (hard to imagine that enough copies of either film exist to offer 35mm in all markets simultaneously) but still: any chance to see either of these films on the big screen is a good thing. Here are trailers for each film, followed by the press release with more info. Watching the Pulp Fiction trailer still gives me an electric feeling — I distinctly remember how excited I was to see the first footage from that movie after having seen Reservoir Dogs many times by that point.
RESERVOIR DOGS AND PULP FICTION RETURN TO CINEMAS THIS DECEMBER – A TARANTINO XX EVENTMiramax, NCM® Fathom Events and IGN Host Two Nights ofQuentin Tarantino's Most Iconic Films in Select Theaters NationwideSanta Monica, Calif. & Centennial, Colo. – October 23, 2012 – Celebrating Quentin Tarantino's filmmaking career spanning two decades, Miramax, NCM® Fathom and IGN present two of his most acclaimed works "Reservoir Dogs" and "Pulp Fiction," each in theaters for only one night this December. "Tarantino XX: 'Reservoir Dogs' 20th Anniversary Event" will hit select movie theaters nationwide on Tuesday, Dec. 4 at 7:00 p.m. local time, and "Tarantino XX: 'Pulp Fiction' Event" will follow two days later on Thursday, Dec. 6 at 7:00 p.m. local time, with matinees in select markets. Each cinema event will include a special feature showcasing Tarantino's 20-year career and a selection of hand-picked movie trailers from films that inspired him as a filmmaker.Tickets for "TARANTINO XX: 'Reservoir Dogs' and 'Pulp Fiction'" are available at participating theater box offices and online at www.FathomEvents.com or www.tarantinoxx.com. The events will be presented using new digital cinema projection systems in more than 625 movie theaters across the country. For a complete list of theater locations and prices visit the NCM Fathom Events website (theaters and participants are subject to change).Audiences across the country will be exhilarated by these gritty and innovative films that launched Tarantino's iconic career, in which he has received the industry's top honors including an Academy Award®, a Golden Globe Award®, as well as nominations for both an Emmy® and a Grammy® award."There is no doubt that Quentin Tarantino's writing and directorial style has reinvented filmmaking as we know it," said Shelly Maxwell, executive vice president of NCM Fathom Events. "Join Vincent, Jules, Marsellus Wallace, Mr. Orange, Mr. Pink, Mr. Blonde and the rest of his infamous characters as they return to the big screen in this special two-night Fathom event.""Reservoir Dogs"Released on Oct. 23, 1992, and named the "Greatest Independent Film Ever Made" by "Empire Magazine," Tarantino's directorial debut assembles four perfect strangers to pull off the perfect crime. But when their botched robbery reveals a police informant among them, their simple robbery explodes into a bloody ambush. Nominated for the Grand Jury Prize at the Sundance Film Festival (1992) and awarded the International Critics Award at the Toronto International Film Festival (1992), "Reservoir Dogs" is raw, violent and unforgettable."Pulp Fiction"Two years after his groundbreaking debut, Tarantino released "Pulp Fiction" – hailed by critics and audiences worldwide as a film that redefined cinema.  Recognized as one of AFI's "Top 100 Films of the Last 100 Years," "Pulp Fiction," set in the basking sun of L.A., follows a burger-loving hit man (John Travolta), his philosophical partner (Samuel L. Jackson), a drug-addled gangster's moll (Uma Thurman) and a washed-up boxer (Bruce Willis), as their four tales converge in a story of violence and redemption. Honored with an Academy Award® for Best Original Screenplay (1994) and earning seven total nominations, including Best Picture and Best Director, "Pulp Fiction" has been listed as one of the best films of all-time by Time and Entertainment Weekly.Miramax and Lionsgate Home Entertainment will release the "Tarantino XX: 8-Film Collection," on Blu-ray™ Nov. 20. The set contains eight films personally selected by Tarantino to illustrate the first 20 years of his career, plus two extra discs packed with over seven hours of exclusive, never-before-seen interviews and special features. The set also features striking, original artwork designed and illustrated by MONDO (www.mondotees.com). Tarantino's newest film, "Django Unchained," will be released in theaters on Dec. 25.