'Django Unchained' International Trailer: Getting Dirty With Brand New Footage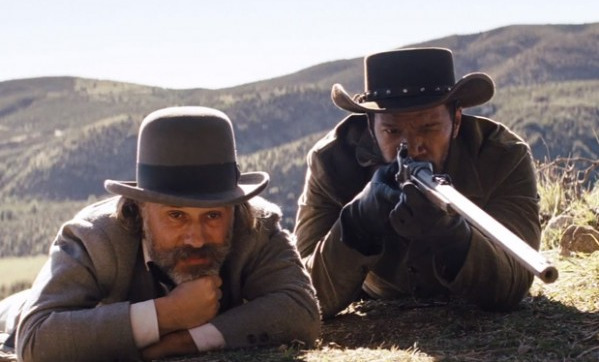 At this point, it feels like we've seen more trailers for December's Django Unchained than we have for a lot of October and November releases. Not that I'd think of complaining, when they're all this much fun.
The latest international trailer remixes some of the same footage we've already seen, but offers enough new scenes to give us a fresh angle on the personalities and motivations of the main players – Django (Jamie Foxx), Dr. King Schultz (Christoph Waltz), Calvin Candie (Leonardo DiCaprio), and Broomhilda (Kerry Washington). And of course, there's more than enough wit, style, and violence to remind you that this is a Quentin Tarantino movie. Watch the new trailer after the jump.
[via The Film Stage]
We've known from the start that Django's two most important relationships in this movie are with his partner Dr. King Schultz and his wife Broomhilda, and here we get some better insight into how both of those work. Love the classically romantic shot of Django planting one on his lady.
Additionally, there's a greater sense of the danger coming Django and Dr. King Schultz's way. Seems the glowering Stephen (Samuel L. Jackson) has caught on to something not quite right about these mysterious visitors, and has raised the alarm to his sadistic owner Calvin Candie. Here's looking forward to a showy, blood-splattered climax to enjoy with the whole family when Django Unchained lands in theaters Christmas Day.
Synopsis:
Set in the South two years before the Civil War, DJANGO UNCHAINED stars Academy Award(R)-winner Jamie Foxx as Django, a slave whose brutal history with his former owners lands him face-to-face with German-born bounty hunter Dr. King Schultz (Academy Award(R)-winner Christoph Waltz). Schultz is on the trail of the murderous Brittle brothers, and only Django can lead him to his bounty. The unorthodox Schultz acquires Django with a promise to free him upon the capture of the Brittles–dead or alive.