'Mama' Trailer #2: Jessica Chastain Battles A Monster Matriarch With The Help Of Guillermo Del Toro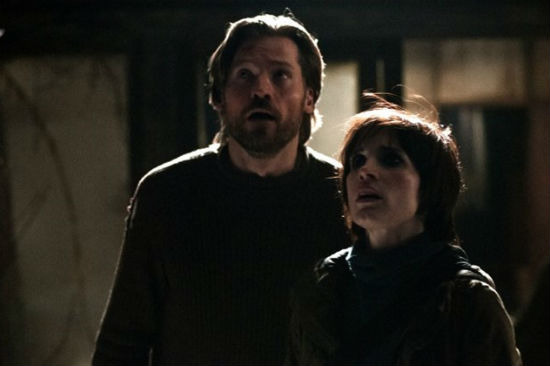 Next week you're going to learn a lot about Mama, Andy Muschietti's adaptation of his short film starring Jessica Chastain and produced by Guillermo Del Toro. I was lucky enough to be on the set of the creepy film and you'll be able to read all about it on Tuesday. Until then, Universal has just released a second trailer for the horror film, scheduled for release January 18.
In this trailer you'll see Chastain's punk-rock character struggle with raising the nieces of her boyfriend (Game of Thrones' Nikolaj Coster-Waldau, in a dual role) who are being haunted by the ghost of their mother. Check it out below and come back next week for much more.
Thanks to Universal for the new trailer. It was released yesterday with subtitles, but now we have the US version.
Totally creepy trailer that, I think, might reveal too much. However, with a movie like this you have to let the audience know what they're in for and this trailer delivers.
Here's the official plot description of the film which explains a few more details of the interesting plot. Again, check back next week for more:
Guillermo del Toro presents Mama, a supernatural thriller that tells the haunting tale of two little girls who disappeared into the woods the day that their parents were killed.  When they are rescued years later and begin a new life, they find that someone or something still wants to come tuck them in at night.
Five years ago, sisters Victoria and Lilly vanished from their suburban neighborhood without a trace.  Since then, their Uncle Lucas (Nikolaj Coster-Waldau) and his girlfriend, Annabel (Jessica Chastain), have been madly searching for them.  But when, incredibly, the kids are found alive in a decrepit cabin, the couple wonders if the girls are the only guests they have welcomed into their home.
As Annabel tries to introduce the children to a normal life, she grows convinced of an evil presence in their house.  Are the sisters experiencing traumatic stress, or is a ghost coming to visit them?  How did the broken girls survive those years all alone?  As she answers these disturbing questions, the new mother will find that the whispers she hears at bedtime are coming from the lips of a deadly presence.